Thank you to everyone who linked to the Thrift Store Point of View Link Party. I love thrift store shopping, bringing things home then transforming them into something I really love. I can tell a lot of you enjoy the same thing. Thank you for sharing your finds and awesome transformations.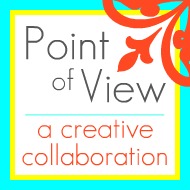 I decided to feature this bamboo mat turned Map Mat by Batchelors Way. I love how this mat turned out but what's even better is the whole Pirate room. Check it out, there's so may things you'll love about it.
The theme for November's Point of View Link Party is Ornaments. Start working on your ornaments for this year so you can link them up to the party. If you have some you've made from previous years link those up too. The more you share the more fun it is. I'm going to be working on a few different ornaments for this season. I can't wait to see yours.