I am such a slacker. I haven't meant to be, but my life has been such a rollercoaster ride for the last 2 weeks.
I owe these wonderful blogs such a huge thanks for featuring my projects this month.
Please visit them if you get a chance.
They're Awesome!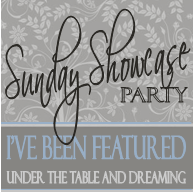 And thank you for visiting my blog. I hope you come back often.
I'll be featuring some great ideas linked to the Home Decor and Organizing Link Party later this week.
Go here to link up your home decor and organizing projects. Don't forget to enter the giveaway while you're there.