Last week was Teacher Appreciation Week at the Junior High. They have a tradition of doing one thing for the teachers and administration everyday of the week. I was in charge of activities for the whole week. We only had a $500 budget, which wasn't much when you consider there's about 100 teachers and administration combined. So we had some things donated and went thrifty on other's. We came under budget with only $223 spent. The week before, we put a schedule in the teachers boxes of where each event was going to take place and at what time, so they would be prepared.
Monday- We left a note in the teachers boxes that said, "Start your day and week off right with a breakfast in appreciation of you, our wonderful teachers." We served muffins (from Sam's Club), fruit, and juice or milk. They loved the fruit and kept coming back for more. This was our biggest expense of the week.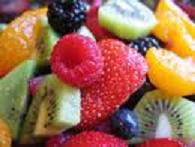 Tuesday- We set up some tables in the Commons area of the school so the kids could sign a card to their teachers. Some wrote messages and some just signed their names. Since they're Jr High age we bribed them with some candy if they signed at least 3 cards. We cut poster board in half and then folded each piece in half to make the big cards. There was no cost to us since we took the supplies out of the supply room. The teachers loved getting a note from their students since that doesn't usually happen in Jr High.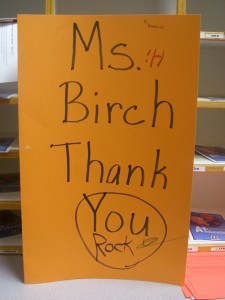 Wednesday- We put a trail mix package in their boxes with a note that said "We're Nuts about our Teachers." That cost about $40. McDonalds also gave us gift certificates, for salads, for each of the teachers.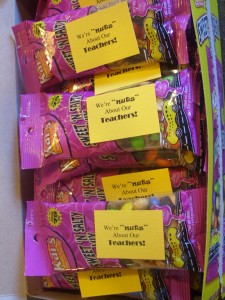 Thursday- We set up an ice cream bar, during lunch time, in the teachers lounge. The ice cream was donated by one of the local companies. One of the parents work there and was able to get us vanilla and strawberry cheesecake ice cream. We bought the toppings. The cost was about $20.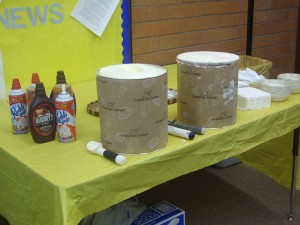 Friday- The teachers were able to come and choose 2 free books for their classroom or themselves. We had about $500 left from the book fair that needed to be spent, so we drove down to a Scholastic Warehouse Sale in Salt Lake and spent all the money from the book fair. They have warehouse sales throughout the country at different times of the year. The public is also welcome. To find the nearest one to you, just look up Scholastic Warehouse Sales on the internet. We had 5 tables set up in the Teacher's Lounge. This was one of them. We also had 2 boxes of books left over that some of the students are going to be able to choose a book from.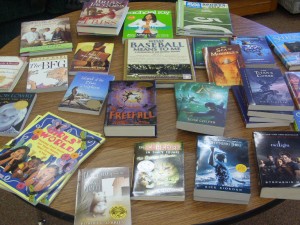 It was a busy week, but I think the teachers really appreciated it. It was nice to be able to show them our appreciation for the time and hard work they put into teaching our children. The students at the school had also made signs and put them around the school that said "We Appreciate Our Teachers." 
This week is teacher appreciation week at the Elementary School and I haven't made anything for their teachers yet, but I have an idea.
I'm linking to:
Works For Me Wednesday at We Are That Family
Strut Your Stuff Thursday at Somewhat Simple
Inspired By at The Inspired Room