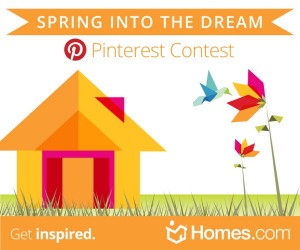 Homes.com has asked me a few other select bloggers to participate in their Spring Into the Dream/ Pinterest Contest.
How exciting is that? Keep reading because you can be involved too. If I win, you can win!
When I think of Spring I think of finally being outdoors after being cooped up in the house through the Winter months. I don't love Winter. I think it should snow for about a week and then be done, but living here in Utah it doesn't happen that way. So when Spring comes around and it starts warming up I'm more than ready to be outside and enjoying the sunshine. I look forward to digging in the dirt, relaxing on my front porch and entertaining on my deck in the backyard.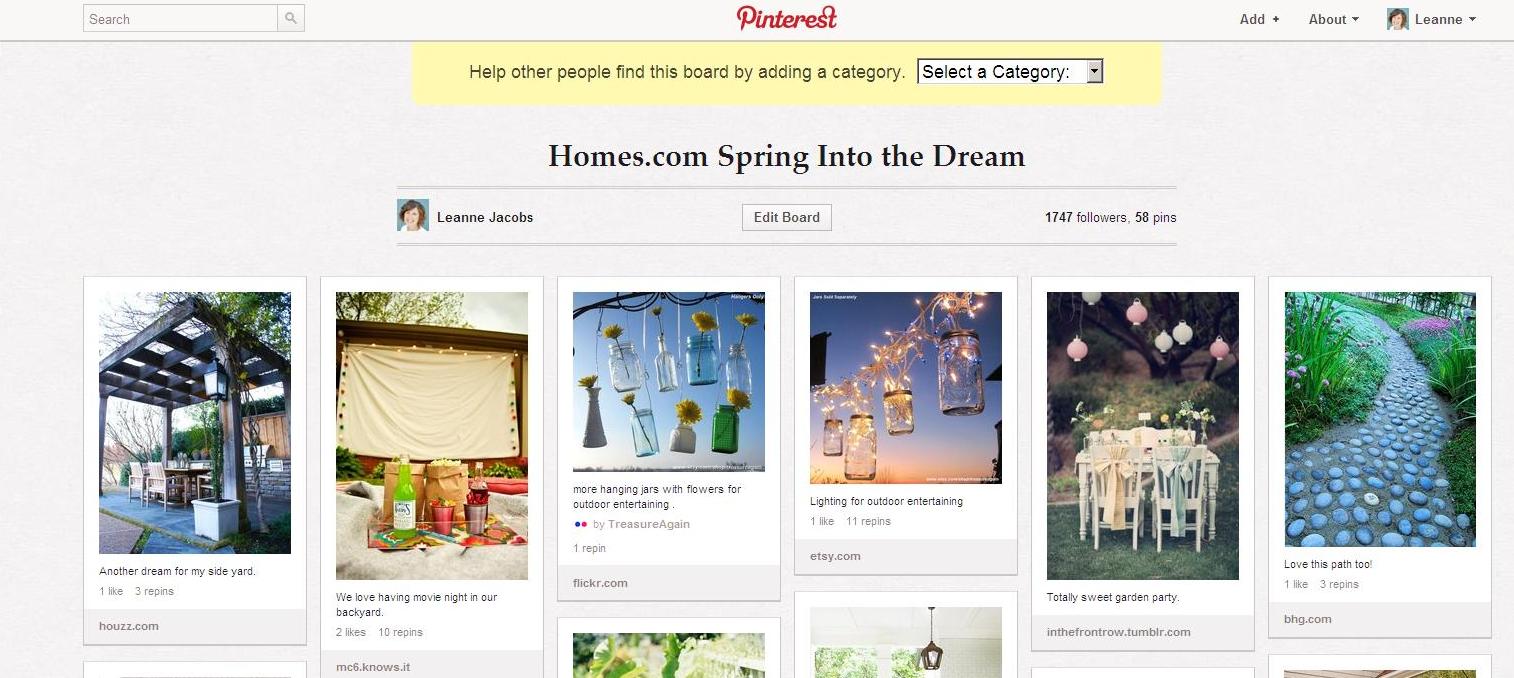 Homes.com has come up with a fun Pinterest contest called Spring Into the Dream. Here's a little peek at my Spring Into the Dream pinboard. It reflects my favorite ideas of Spring: Outdoor Entertaining, Landscaping and a Welcoming Front Porch. You can check out all the great ideas I've collected by following me on Pinterest. I'll also be adding more over the next 2 weeks.

Do you love Pinterest as much as I do, gathering awesome ideas and what about the chance to win $500? If my Pinterest board is selected as the winner of the contest, you have a chance to win as well. You can create your own Spring Into the Dream Pinterest pinboard for a chance to win a $500 Homes.com gift card.
Here's what you need to do to Enter:
1. Create a "Homes.com Spring into the Dream" pinboard on Pinterest.
a. Your board must include two repins from Homes.com's "Spring into the Dream" board
b. Your board must include two pins from articles on Homes.com blog
c. And any other pins you'd like to include related to the "Spring into the Dream" theme
2. Follow Homes.com on Pinterest
3. You must provide a link to your pinboard in the comment section on this blog post to be eligible.
Hurry over to Pinterest and start pinning away on your dream board. If you need an invitation to Pinterest send me an email.
Homes.com's internal judging panel will select the winner based on the judging criteria. The contest will begin at 9:00am EST on Monday, May 14, 2012 and end 11:59pm EST on May 25, 2012.
Homes.com is not only here to help you attain the American Dream, we're also here to inspire you to dream big! In spring, or anytime of the year!
Disclosure: I did not receive any compensation or free merchandise for this post.