We're Organized Wednesday Link Party and Giveaway is open through Saturday. You can join the party or enter the giveaway here.
Sarah from Three Boys shares her system for Five Steps to a Neater House.  
Liza at Sharpteam's Blog shares her ideas to keep things special for your guests. What a great idea for the Holiday Season.
Andrea at Simple Organized Living share her Ideas Book. I have one of these too, for updates or changes and even decorating and organizing ideas I want to bring into my home.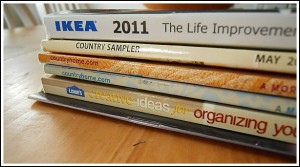 Thrive shares her Ballard Designs Bulletin Board knock-off. You are going to be amazed when you find out what she used to make hers.
Thanks for the great ideas ladies. You can grab a featured button if you'd like.
Busy, busy day, but I hope to be back later with some more great organizing ideas.
Have a fun Halloween Weekend!