I love Thursdays and sharing the talent of my amazing contributors. Sarah is here today sharing a beautiful Christmas card template. She has made it simple enough for even me to use. I love the colors she is offering too. Here's Sarah:
Hi everyone! I am so excited to share this month's free printable with you – It's a really cute one!
Now, I know all of you Americans are gearing up for Thanksgiving, but up here in Canada, our thanksgiving has been over for about 6 weeks. Once thanksgiving is over, Christmas is fair game for us – although I do tend to wait until after Remembrance Day (Nov. 11) to get in full on Christmas mode. But now, the time has come, and I am here to share a fabulous printable that will help make your Christmas cards even more awesome this year… a free photo card template! And it's really easy to use, I'll even show you how!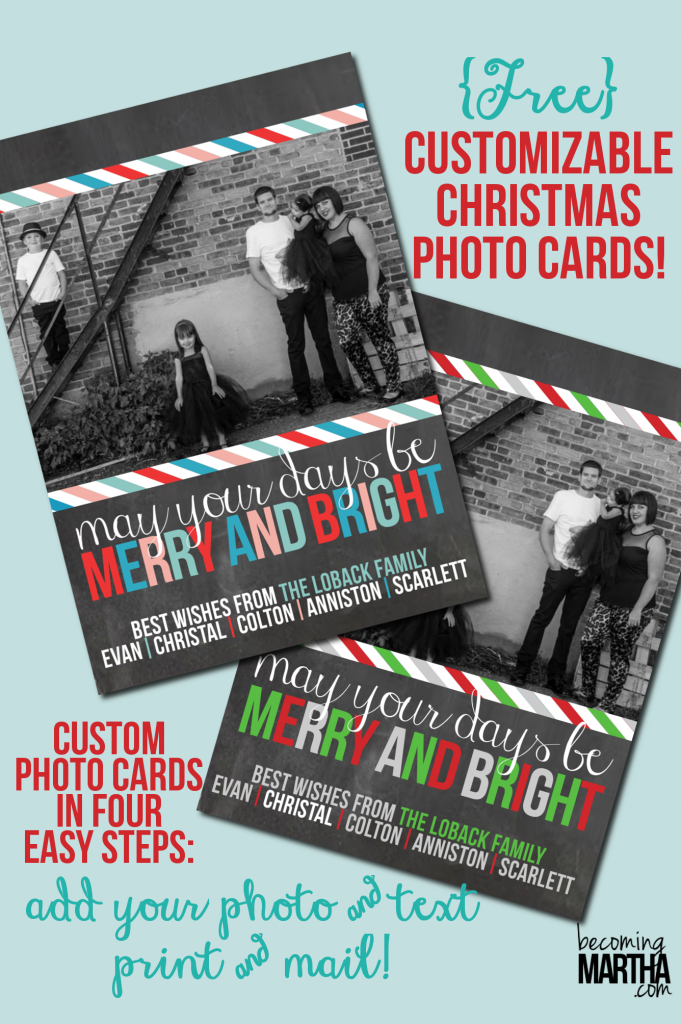 (I have to say thanks first to my friend Christal for letting me use their amazingly glam family photo for this demonstration! Isn't it awesome?)
To start, you will need a photo editing program. If you have photoshop, chances are you know how to do this, because it's a pretty basic task in photoshop, so I'm not doing a photoshop tutorial. I thought I would make this really accessible and show how ANYONE can customize these cards using only PicMonkey!
First, save the High Res White Page image below, along with your choice of photo card (aqua/red/pink or red/green/silver). Then, open the high res white page in PicMonkey. Click the Overlays tab (the butterfly) and select "Your Own". Open the file with your chosen card template.
PicMonkey opens all overlays in a small size, but you can stretch it out to normal size by dragging the corner, and fitting it to size with the white page.
Ta-da! Once your card is stretched out, it will look like this, with a big white spot where your picture will go.
Next, click on overlays again, and choose Your Own. Select the file for your photo and open it.
Again, stretch it out to size.
Once your photo is stretched out, right click on the photo and choose Send Backward. This will put the photo below the card template.
Adjust the portion of your photo that is showing by dragging it up and down.
The last step is to add text at the bottom. I chose a coordinating font and wrote a greeting along with their names. This is where you really get to personalize it and write whatever you want on your card. (The "pipe" – or vertical divider that I have between each persons name – is created by using alt+124.)
And there you have it, a beautiful Christmas card that you can print out and mail to all of your loved ones. You can print it at home on a heavy cardstock, or you can have it printed at a photo lab on photo paper.
To download your own Christmas card template, click here for the Aqua/Pink/Red version, and here for the Green/Red/Silver version. Click here for the High Res White Page. To download, right click on the image and choose Save Image As. (You won't be able to see the high res white page, but when you are hovering over it, your mouse pointer should change to a magnifying glass. If you right click and there is no "Save Image" option, you are not clicking on it.)
Thanks so much for joining me again, and I really love sharing with you every month! For more great Christmas ideas and projects, be sure to visit me over at my blog, Becoming Martha!
Are you going to make these awesome cards? Don't forget to visit Sarah on her blog for even more awesome projects.