Are you ready to get organized once and for all this year? I'm so excited to be able to share with you this amazing printable bundle. It has everything you could think of to keep your home running smoothly. Take your time and check out everything it has to offer. One of my goals this year is to better track my spending so I was really excited about The Financial Mini Kit and the Printable Envelope System. I can't wait to get some of the other pages printed out and in my Home Management binder. These printables are going to be such a huge help.

Do you love printables & customizing your personal planner? It's one of my absolute favorite things to do. If you are anything like me, the Printable Love Bundle (created by several of the most popular lifestyle bloggers) is the perfect kit for you! Whether you use a Filofax planner or a 3 ring Home Management Binder, the Printable Love Bundle has something for everyone. It's the only printable bundle devoted entirely to the love of planning. We also threw in some extra fun printables for Valentines Day, the pantry, and your budgeting. For one week only, you have the opportunity to stock up on hundreds of printables for your finances, blog, home, pantry, chores, menu planning, and much more. They contain everything you need to create a home management binder or personal planner. The best part about it, these printables can be printed over and over for many years to come.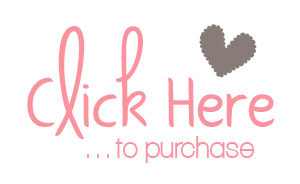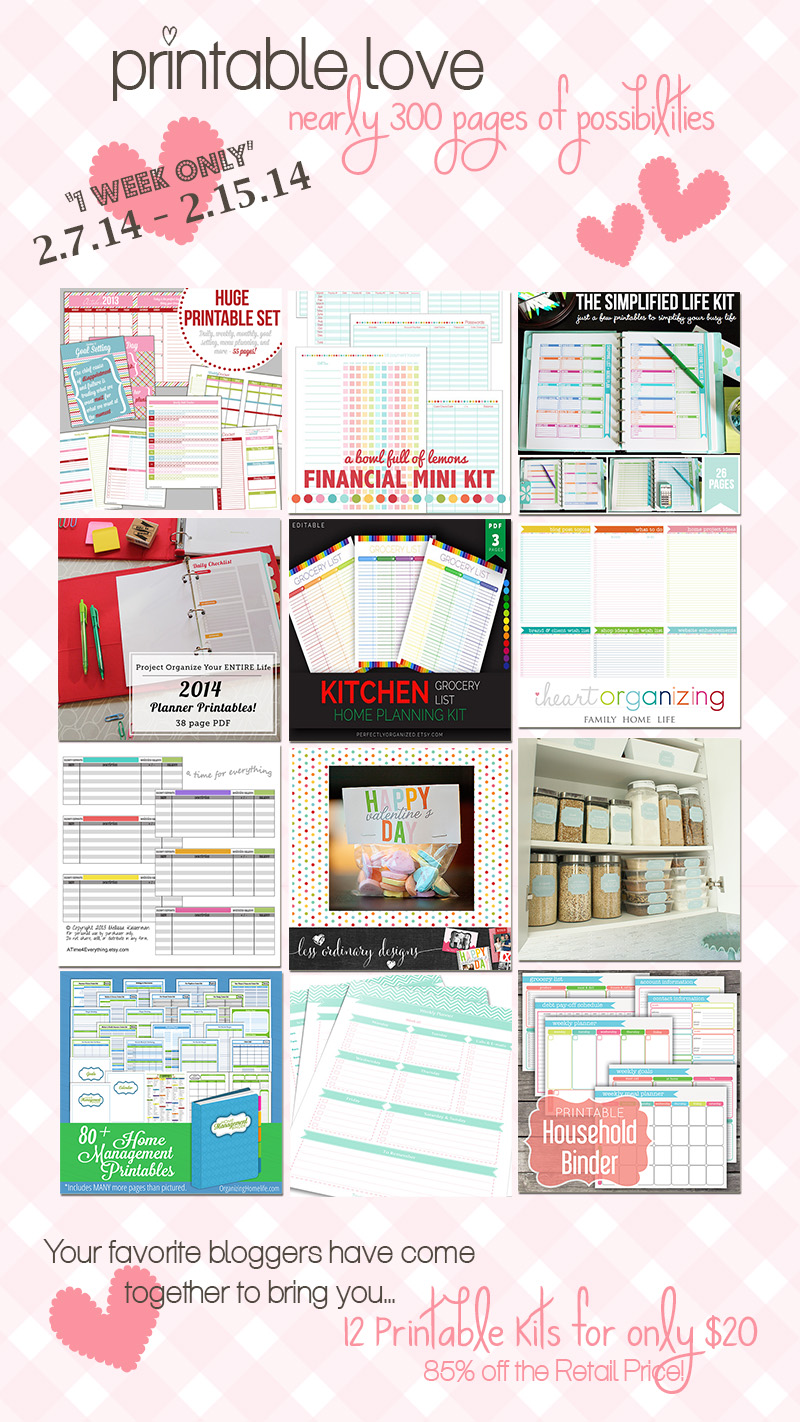 What's included in the Printable Love Bundle?
You will receive 275 printable pdf pages in this fabulous bundle. The pages can be used in planners & home management binders. There are many more uses for them as well.
A Bowl Full of Lemons Financial Mini Kit (6 pages)
Clean Mama's Simplified Life Kit (26 pages)
I Heart Organizing's Blog Planner Kit (20 pages)
Modern Parents Messy Kids 2014 Planner Printables (38 pages)
CitrusPaperCo's Household Binder Printable Set (18 pages)
Super Sweet Life's Huge Printable Set (61 pages)
Organizing Homelife's Complete Home Management Binder + 2014 Calendar (84 pages)
Bizuza's Printable "To Do" Planner Organizing Pages (4 pages)
Perfectly Organized Editable Kitchen Grocery Lists (3 pages)
Less Ordinary Designs Valentines Day Treat Bag Toppers (1 page)
The Paper Society's Printable Pantry Labels (12 pages)
A Time For Everything's Printable Envelope System Categories (2 pages)
How much does the bundle cost?
The Printable Love Bundle is only $20. That's an amazing 85% off the retail cost of $132!
How long is the bundle for sale?
The bundle will be available from 8am EST on 2/7/14 through 11:59 pm EST on 2/15/14. There are no exceptions.
Details about each kit:
Listed below are the pictures, details, and links to the 12 kits within the Printable Love Bundle. If you have any specific questions about a kit, please email the blog associated with the kit. For general Bundle questions, you can contact us at printablelovebundle at gmail.com. Please look at the FAQ page before emailing with questions. All kits are pdf documents and will be sent to you in a zip file, once payment has been made (instant download). All pages are 8.5 x 11 inches unless stated in the description. Visit the FAQ page for details on how to resize the pages to fit into smaller planners.
Important Details:
If you have any questions or issues with your Printable Love Bundle, please visit the FAQ page. Look over the questions and answers on the page BEFORE emailing. If you have not found your answer on the FAQ page, please email printablelovebundle at gmail dot com. To ensure that your question is answered in a timely manner, please take care to email at the printable love bundle address (not our personal email address). Please note that due to high email volume, we will do our best to respond within 24 hours – thank you for your patience! When emailing, please include a copy of your Paypal receipt and highlight your issue in the "subject" line.
The Printable Love Bundle is only available from 8 a.m. EST on February 7th to 11:59 p.m. EST on February 15th, 2014. There are no exceptions.
PLEASE DO NOT SHARE THE BUNDLE WITH ANYONE ELSE – it is intended solely for the person who purchased the bundle. Please be respectful of the authors'

copyrights

.
After purchasing, you will automatically receive an email (to the email address you provide) containing the download link. Please check your

spam

folder, if you cannot find the email.
Please download and back up your Printable Love Bundle purchase, AS SOON AS YOU RECEIVE IT. You only have 5 download attempts to access your files.

The download link expires on 3/01/14. After that date, we will not be able to provide new links to download

. Please remember to back up your files. We are unable to sendyou copies of the printable bundle that have been deleted or lost. We will

not

respond to those emails.
Due to the digital nature of this sale, there will be no refunds & no exceptions.
If you have any questions or issues with any of the printables included in this bundle, please contact that author directly.
Disclosure:
This is an affiliate post. If you purchase a bundle from my link, I will profit from a percentage of the sales. Thank you for your support!