Thank you to everyone who linked up their Pinterest inspired projects to the Point of View Link Party this month. I would love for the party to continue growing, so spread the word and get your friends to join the party too. There will be even more fun and inspiring ideas to gather next month.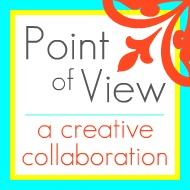 Both of these fun paper craft ideas caught my eye and I just had to feature them.
Diane at The Checkered Apple made a beautiful Paper Leaves Wreath. I saw this and wanted to make one too, but never did. I love how hers turned out and she used a grocery bag for the leaves. I love it!
I think these Paper Daffodil Straws by Melissa at Bless This Mess are darling. I love the banner too. Wouldn't these be so cute for Easter or a Shower? I just met Melissa (on line) last week, but I found out we have a connection. We both grew up in Indiana and as we prodded further we found out we went to the same church (only years later because I moved away and she's much younger than me). You won't believe what we found out next. I dated her dad!!! Yeah, a little awkward, but she's a sweetheart and I would love to meet her in person one day.
I'd love for you to join the Point of View Link Party in April. The theme is Teacher Appreciation/End of School. The party will be April 27th. I envy those of you that are already thinking about the end of the school year. We're on year round school so we don't get out until July. But that means I'll have something done early for a change. Yay me!
Tomorrow is the last day to enter to win a $100 AmEx Gift Card courtesy of Apartment Guide. Go here to enter. All you have to do is leave me a comment with your favorite organizing tip.
Check Out These Related Posts