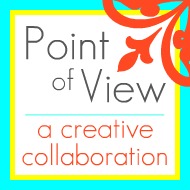 Welcome to the June Point of View reveal and link party. My favorite colors together are red, white and blue. They just make my heart happy. So seeing all our projects together make me extra happy. I love our Patriotic theme for this month. If you're from a different country you can still participate, just wave your countries colors.
You can check out the Point of View Girls projects by clicking on the links below. We're excited to have Sarah at as our guest this month. If you'd like to be a featured guest, just shoot one of us an email and we'll get you in as soon as we can.
Sarah at Renewed Upon a Dream
Leanne (you're here) just page down or click here
Ashlee at I'm Topsy Turvy
Jonie at Just Between Friends
Amy at Ameroonie Designs
Now we'd love to see your Point of View. Find all your patriotic posts and share them here. We can't wait to see your great ideas. We'll each be sharing our favorite project next week. Just link to one blog and you'll be on all of them.
Thanks for joining the party!