Welcome to the July Point of View reveal and link party.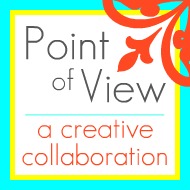 This month's theme is Outdoors. Wow, I have so much to work on outdoors that it was hard to decide what to do. Being on a limited budget helped make the decision easier though.  My project was almost free because I had most of the supplies on hand.
Check out all the Point of View projects by clicking on the links below. Amy is taking this month off because she's enjoying spending time with the new little addition to her family. We'd love to have you as a featured guest. If you'd like to be a POV girl for a month send me an email and we'll get you set up.
Gwen at Gwenny Penny
Jonie at Just Between Friends
Leanne (page down one or click here)
Ashlee at I'm Topsy Turvy
Now we'd love to see your Point of View. Find all your Outdoor projects and link them here. We can't wait to see your great ideas. We'll each be sharing our favorite project next week. Just link to one blog and you'll be on all of them.
Thanks for joining the party!