Wow, Thursday comes around quicker every week. If this continues, Summer is going to fly by. Anne, my Party Contributor, is here today sharing some awesome photo display ideas for any party or celebration you have coming up. Here's Anne:
Hello there! It's Anne from Circus Berry here, sharing some more great celebration ideas with you for your summer. It is the season of parties…between graduations, weddings, and showers, and throw in a couple of birthdays in there, your head may be swimming with party decor ideas. I know mine is!
A party celebrating a milestone, whether it graduation, an anniversary, a landmark birthday, or a soon-to-be happy couple, is a great excuse to break out some of those throwback photos to display for all to see. I myself am including some clever photo displays featuring the guest(s) of honor in some of the festivities I am helping to plan this soiree season.
Here are some ideas that have inspired my DIY Party Projects that I am sure will get your creative, photo-collage juices flowing! Many of these can be displayed in a dorm room, on a mantle, or on a family room wall long after the party is over! Check it out: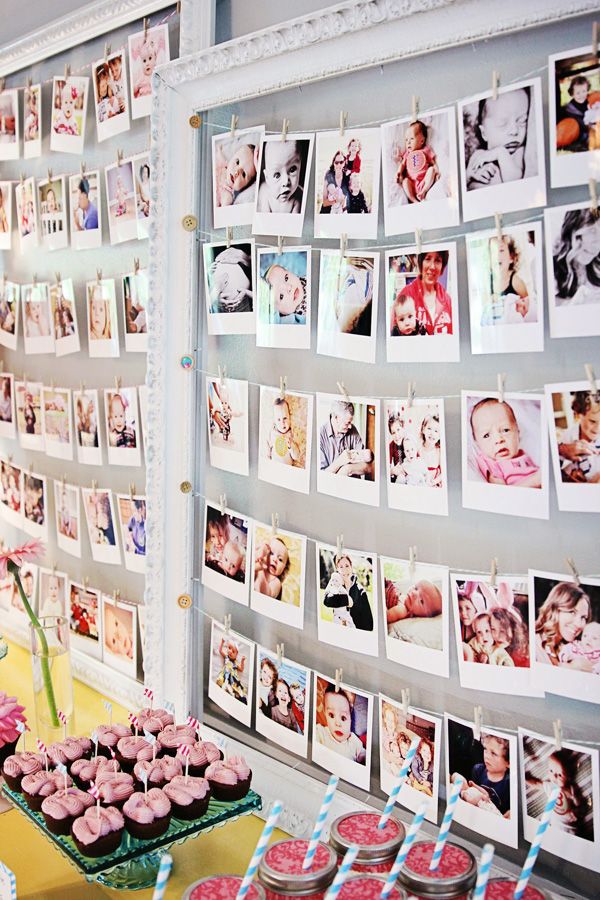 There is something just awesome about the look of dozens of Polaroids displayed together. For a fabulous photograph backdrop, grab yourself extra large frames, string some decorative baker's twine across in rows, and clip on your favorite pictures showcasing your guest of honor. (via Hostess with the Mostess)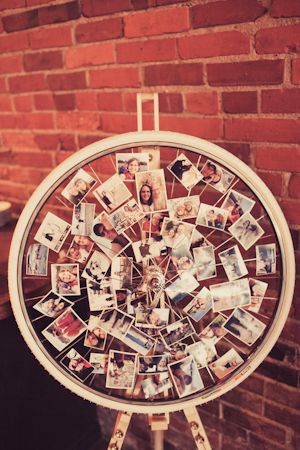 Bicycles, especially vintage ones, are trendy, and bicyclists seem to have their very own sub-culture. Incorporate that bike-theme or celebrate your loved-one's favorite hobby by displaying photos in the spokes of a bicycle wheel. It would make a great keepsake too! (via Simply Wed)
If you are incorporating a coastal theme, or even a farmhouse theme, into your celebration, this fence display is perfect for you! Again, you have a keepsake for displaying photos when the party is over. (via Craftiments)
Who says you need to display your photos on a wall? Make a couple of photo mobiles to hang above the gift table or dessert table, complete with some colorful pom-poms to match your theme (or the school colors). (via On To Baby)
A ceiling covered with balloons has always had such a "WOW" factor for me. Why not keep the awesome going by stringing some pictures to the balloons as well? And there are those Polaroids again! (via Studio DIY)
I can't believe how sweet and simple this DIY Photo Bunting is! And totally customizable…it could fit any theme at any event and is so easy to make. (via Bridesmaid.com)
Create a stunning, outdoor wall of photos by stringing ribbon to a tree branch and attaching your photos front the top to the bottom. It creates a separate place for your guests to mingle and visit, and leaves an opportunity to display LOTS of pictures! (via Project Wedding)
Make a big impact behind your dessert table by showing of some seriously big pictures. Armed with a handful of pictures, you can really show off your guest-of-honor's personality and give the partiers something to talk about! (via Tatertots & Jello)
Take all of those pictures and make a fabulous collage as your backdrop. I love the idea of making a sweet heart for a wedding, anniversary, or even birthday. (via Design Aglow)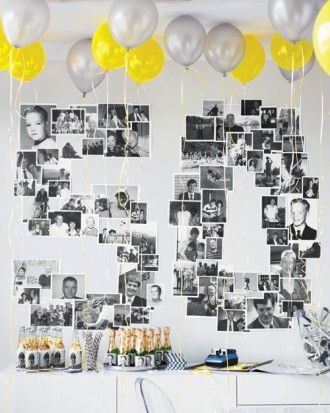 Or, if there is a milestone year to celebrate…say, an anniversary…take all of those photos (vintage and new) and create a number collage on the wall. If you look closely, those same photos create wraps for bottles as well! (via Martha Stewart)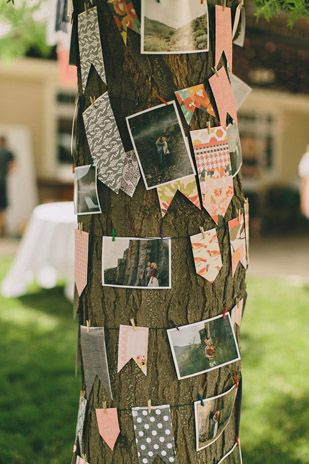 Dress up those trees for an outdoor event. All you really need is some scrapbook paper, twine, clips, and an arsenal of photos for a clever display. This is especially perfect if you have a lot of space but not a lot of walls! (via One Fab Day)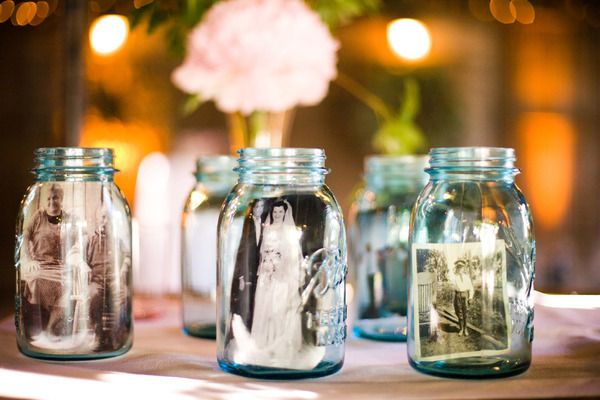 Mason jars are so awesome…there are so many ways to use them, they come in a variety of sizes, and they are pretty cheap. Slip a photo into a jar (or many) and display as a centerpiece for your next event. (via Style Me Pretty)
There are so many great ways to display photos at a party, I am definitely holding on to some of these for future graduations! Enjoy! -Anne