First, I want to wish my oldest a very Happy Birthday. I wish I could take her out to lunch today, but since she lives in Canada that's a little difficult. We did have some yummy food at Chili's before she went back home a couple weeks ago.
Happy Birthday Sweetie! You're a beautiful woman inside and out. Traci with her dad and son (my hubby and grandson).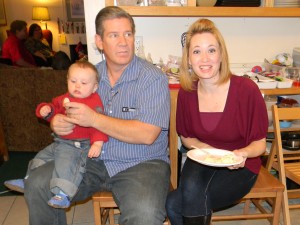 This is the last area of the kitchen to organize (except for the pantry, that will come later). This cabinet is very narrow and holds baking supplies on the top 2 shelves and drink mixes, sugar jar, cinnamon mixture and toothpicks on the lower shelf. The lower shelf stays pretty organized but the upper shelves get things just tossed up there sometimes. Here's the Before.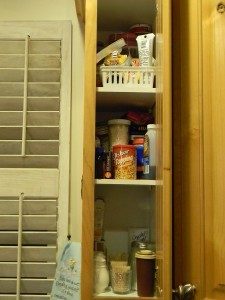 First I emptied everything out and cleaned the shelves. Then I went through expiration dates and things that would be better placed somewhere else. I combined some of the bottles of same ingredients together. Here are the things I was able to get rid of.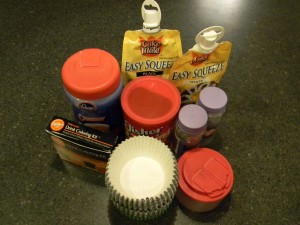 Here's the After.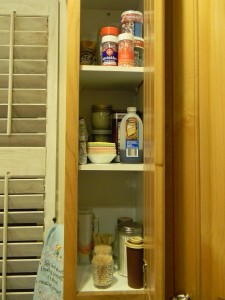 Next I went the the "drinking cups" cabinet and was able to remove a few things. I have too many mugs, even when we all have a cup of hot cocoa.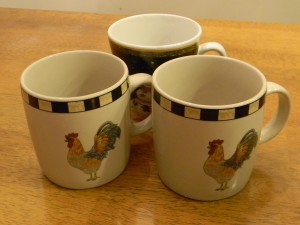 This is what it looks like now. "Fancy glasses" that are rarely used are on the top shelf. Mugs below that shelf, then glasses below that and the bottom shelf holds plastic drinking cups. I like to drink from glass, hubby and the kids like to drink from plastic. Sorry about the crooked picture.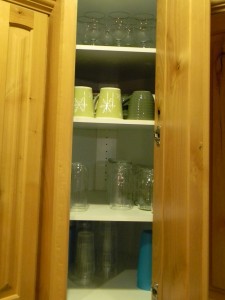 This cabinet is so over full that it's hard to find what I want. I store my spices and sauces in this cabinet because it's right next to the stove and convenient when I'm cooking. Here's the Before.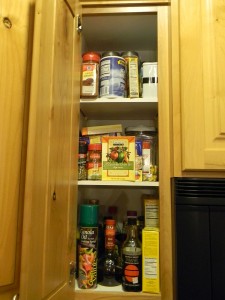 Okay, this is embarrassing. All of these items were expired. Luckily most of them were almost empty so at least I used them.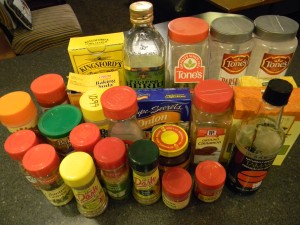 Here's the After. Much better, but now I need to buy a few things I really need for cooking. I also added the basket for things in envelopes.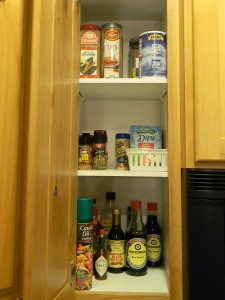 I don't store much in the cabinet over the microwave because it's hard for me to reach up there. I keep bread and rolls up there because they were getting smashed in the pantry and the lunch boxes are up there too. There's a plug in this cabinet for the microwave and I've been thinking of using it for extra lighting under the cabinets. Looks like I have another project coming.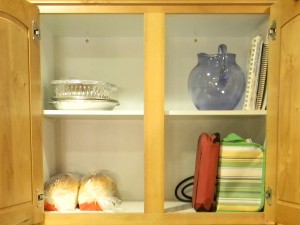 I was able to take these things out of the lazy susan.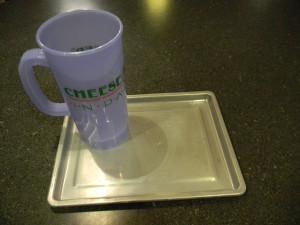 Now it looks like this. I store bigger items in here and they're easy to get too because it spins.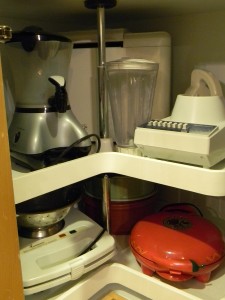 I was able to get rid of 39 items in this area of the kitchen. That's a total of 211 items since January 3rd. Woo-Hoo!
Don't forget We're Organized Wednesday is this week. I'm excited to see what you've been decluttering and organizing. Come and share with everyone. I love to feature great ideas and I'd love to feature yours. There's an awesome giveaway too.
I'm linking to:
WFMW at We Are That Family
Everything But the Kitchen Sink at A Little Knick Knack
Kitchen Clean Up Party at Beneath My Heart