Welcome back to another Organize It! link party hosted by the Top Organizing Bloggers! The weather is starting to change for most of us and we are moving indoors. Have you been working on getting spaces organized or do you need the motivation to do so? This is the place for you! We'd love to have you share your organized spaces. We're always excited to see what you've been working on and how you organize it. If you need motivation to get you started this is the perfect place for it. Check out the categories below and link up in the appropriate space, don't forget to also check out how others have organized their spaces. We can't wait to see what you've been up to! And you have the whole month to add to the party. Our favorites throughout the month will be pinned to our Organize It! Pinterest board.





1. Must be organizing related.
2. Must have the button or a text link, linked back to one of our 8 blogs.
3. Must be a new link up each month (No duplicates).
4. A maximum of 2 posts may be linked up each month.
5. Please link to the correct category.
6. The link up must be your own work.
*We have the right to delete any link ups that do not follow the rules.





The event will last all month.
You can link up on the first day, the last or any day in between.
Make sure you only link up a maximum of 2 organizing posts per month.
We will share our favorite linked up blog posts on "Organize It!", our Pinterest page.
Have fun, get lots of inspiration and share the party with the world!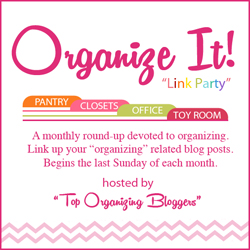 Kitchen Organization



Closet & Storage Organization



Bedroom Organization



Laundry & Cleaning Supplies



Binders & Planners



Office Organization



Craft Room & Keepsake Organization



Other Spaces