It's Thursday, so that means it's time for another post from one of my awesome contributors. Make sure you show this post to your family so you can benefit from all these great ideas. Here's Anne to share her Mother's Day breakfast ideas.
Hey everyone! Anne here with some more fabulous celebration inspiration for you. I am cutting right to the chase here. Mother's Day is coming up and as a mother, daughter, and friend to lots more mommies, I know how important it is to spoil your Momma on her special day. Today I am sharing some great tools and links for planning your very own Mother's Day breakfast in bed. And I am doing it a month in advance too, so there is plenty of time to get it together!
Let's start with are some essential tools to get you started, if you don't already have them. Of course these can be considered part of Mom's gift, as she surely will use them again and again!
Grove Tray via Pier 1 Imports | Sedona Bed Tray via Amazon
Threshold Glass Short Handheld Pitcher via Target | Stainless-Steel Gourmet Coffee Press via Amazon
Fete Azalea Cotton Napkin via Crate and Barrel | Room Essentials Cotton Napkin with Trim via Target
Whether easy or elaborate, Mom deserves some deliciousness for her pampering. Let's talk about food! Since it is breakfast in bed, the easier it is to eat, the better it may be.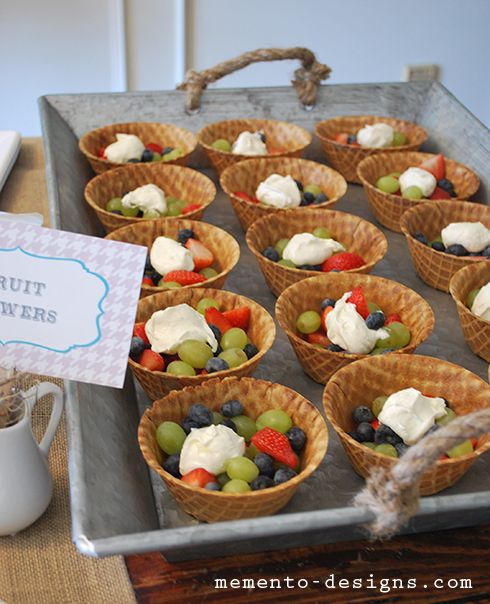 Serve fruit salad in an edible bowl. I personally think that with a dollop of Mom's favorite yogurt would be delightful (pst…mine is Chobani Vanilla). (via Memento Designs)
I am a huge fan of food on a stick. These french toast and fruit kebabs would make a great breakfast item. And once the french toast is made, the kids can help assemble. Team work! (via Tablespoon)
These Bacon Egg Toast Cups from Martha Stewart are awesome for getting all of the breakfast favorites into one nice little package.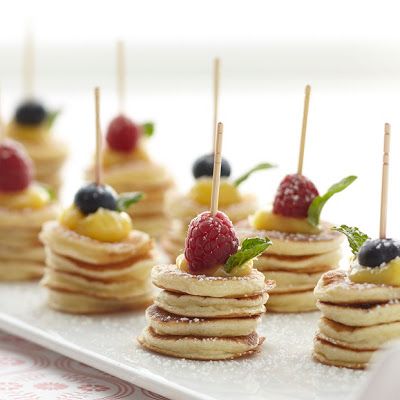 More food on a stick! Mini pancakes topped with lemon curd and fresh fruit adds a nice, we'll say 'elegance', to the breakfast. Mom will love it. I know I would! (via Stonewall Kitchen)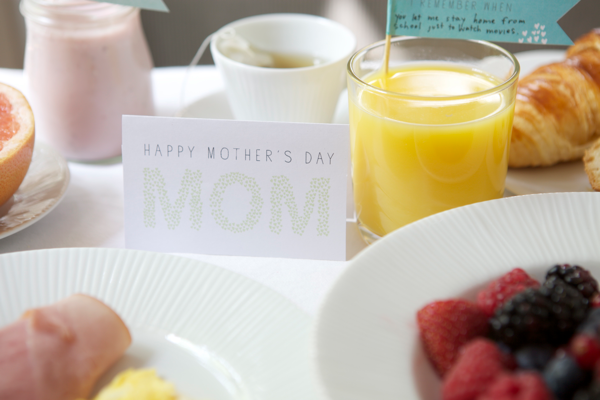 Now, print off some of these flags and tags from Oh Happy Day, fill in the messages, and watch Mom tear up as she reads how much you love her.
Finally, dress up the breakfast tray with some handmade goodies that can be used again and again. I personally love the special touch of dipping plain silverware into a favorite paint color.
Try pink…it is springy, and feminine, and sure to please. (via A Simple Kind of Life)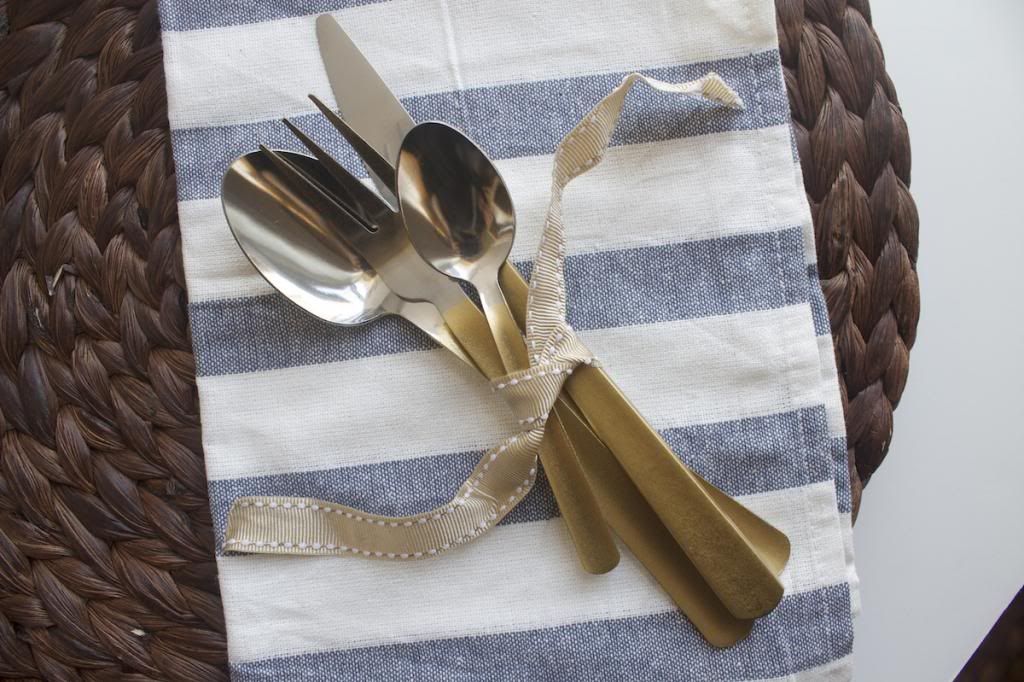 Then there is my personal favorite…gold! (via Runway Chef)
Let's not forget the flowers! Find some fresh spring flowers and learn how to make your own quick arrangements.
(How to Arrange Spring Flowers via Real Simple)
(Mother's Day Flower Ideas via Better Homes & Gardens)
I hope these ideas spark some creative ideas for your own breakfast in bed. Ladies, go ahead…send your loved ones the link. There is nothing wrong with a little hint on how to get things moving (wink wink). Have a great week! Anne
Thanks Anne! I'll be showing this post to my family and waiting to be spoiled on Mother's Day! Don't forget to visit Anne at Circusberry where she blogs regularly.