This was first posted in October if you can't tell from the decal on the mirror. I have this mirror that has been hanging in my living room for over a year. Nice mirror, but not really my color (don't mind the big decal, it's decorated for halloween and I was to lazy to take it off for the picture) plus since I painted that wall it just doesn't work.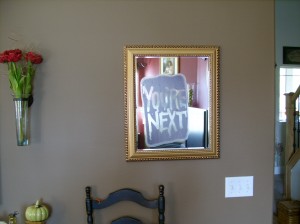 Can you guess what color I painted it? Oh, you know me so well. That's right, glossy black! During the painting process I realized something, it's great to cover it with paper, but don't forget to tape it down too. When you start spraying, the spray can lift the paper up. Luckily none of the glass was painted, but I was sweating there for a minute.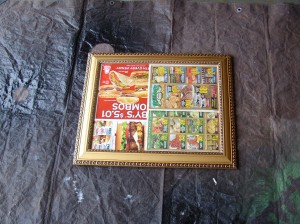 And here it is all painted and hanging back on the wall. Ahhhhhh, so much better. Why didn't I do this over a year ago?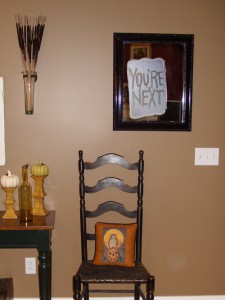 I'm linking to:
Power of Paint Party at Domestically Speaking
Check Out These Related Posts