I'm still having a few problems with this site, but it's about 95% fixed now. Hopefully it'll be at 100% by tomorrow. I am so technically challenged and was at a total loss as to what to do. My site was just gone, totally gone, nothing there, grrrr! No pictures, words, comments, nothing! And of course I was panicing. How the heck does that happen? Luckily Hubby's a lot smarted than me and worked tirelessly to get it up and running again. Oh, I love him and how smart he is. Thanks Hubby!
Anyway, what to do with a mantel when you're tired of winter, but not ready to decorate for Spring or Easter yet. I want Spring, but I'm not quite ready to decorate like it's Spring. So, I walked around my house looking for things that might work as a "between the seasons" mantel. I had also stopped by Ross earlier in the week and picked up a few things. The mirror stayed put from the Valentine's mantel.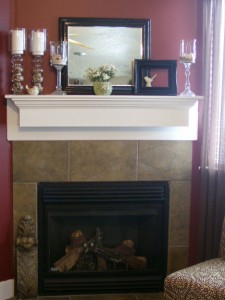 I bought the frame from D.I. for $1 a few months ago and spray painted it black. I've had the bird for a long time. I buy birds when I see one that appeals to me and have quite a few.
The tall candle holders came from Ross for $5 a piece. I had the rocks, candles and bird already. The dollar store is a great place to buy these rocks.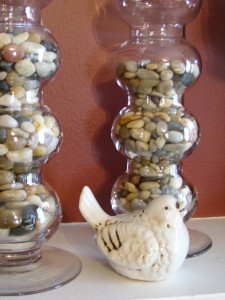 The green vase/candle holder came from Ross for $1.49. It's my little bit of color for the mantel. And great for St. Patrick's Day too. I already had the flowers.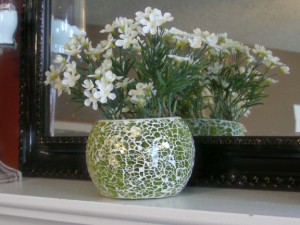 The other tall jars are the ones I made a few weeks ago. They're filled with sand and shells we found in Florida. I guess that's Summery, but I like the way they look.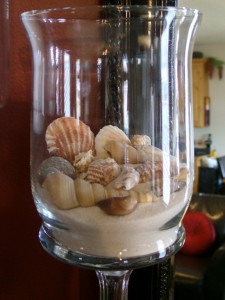 Well, that's the mantel decor until I decide to decorate for Easter. I like that it's really neutral with just a pop of color. I'm usually very symmetrical, so this was a challenge I gave myself.  I like how it turned out and for very little money.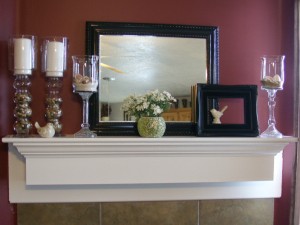 I'm linking to:
Creative Cats at Poppies at Play
Victory of the Week at Design-aholic
Weekend Wrap-Up Party at Tatertots and Jello
Made It Monday at The Persimmon Perch
Metamorphosis Monday at Between Naps On The Porch
Project Parade at The DIY Showoff
Make Your Monday at Twice Remembered
Make It For Monday at Cottage Instincts
Just Something I Whipped Up at The Girl Creative
DIY Day at A Soft Place To Land
Toot Your Horn Tuesday at A Silly Lttle Sparrow
Penny Pinching Party at The Thrifty Home
Show and Tell at Blue Cricket Design
Whatever Goes Wednesday at Someday Crafts
Transformation Thursday at The Shabby Chic Cottage
Strut Your Stuff at Somewhat Simple
Get Your Craft On Thursday at Life as Lori
Thrifty Thursday at Bloggeritaville
Show and Tell Friday at My Romantic Home
Frugalicious Friday at Finding Fabulous
Viewer Inspirations at So You Think You Can Decorate
Shop the House Sunday at Finesse Your Nest