All of this decluttering has taught me a few things. Either I need to move more often (which I don't want to do) or I need to pretend I'm moving every 6 months to get rid of things. As far as clothes go, I think I need to evaluate every 3 months, because I just keep finding things.
13 things from mine and hubby's closet.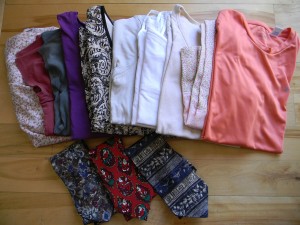 9 things from Emilee and I know there's still more of hers I can get rid of.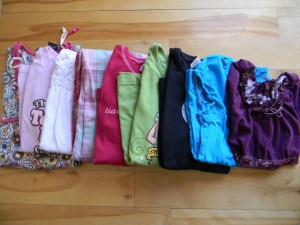 8 things from Ammon. Emilee is the last girl and Ammon is the last boy, so I don't save their things. I usually donate them, but they're going in the yard sale pile this time.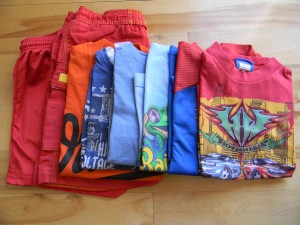 Oh look! I found more clothing and accessory items. 5 more things. I just have to say something about those ugly white shoes. We went down to St. George last Summer and hubby forgot his athletic shoes. He ran to Wal-Mart and came back with these. He said they were the cheapest. Really, I wonder why! He hasn't worn them since (not that I'd let him) and they're not going to be taking up anymore space in the closet.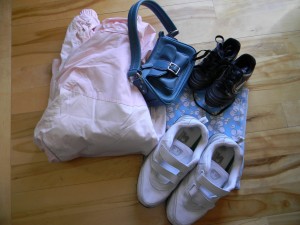 4 table linens.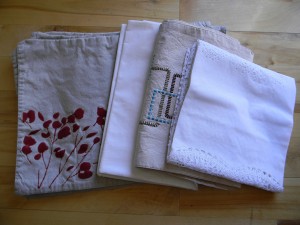 Some old bedding.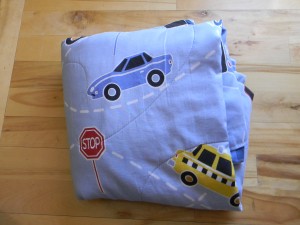 5 household items.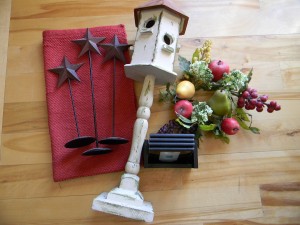 3 games.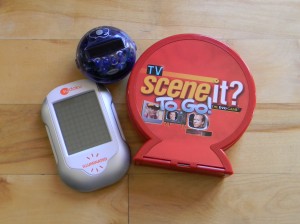 And a whole tote full of videos. 76 of them.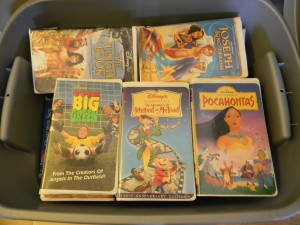 I took this much to the trash. Yes, those are Science Project boards in the back. Don't think I'm a horrible mom, but I am not keeping all of those. I did take pictures of them though, just in case the kids ask.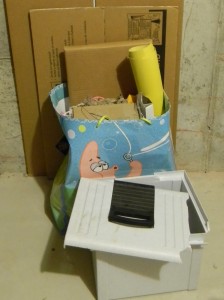 And I have 4 bags of things going to D.I. For those of you who don't know what D.I. is, it's short for Deseret Industries and is a thrift store similar to Goodwill. I donate to and buy from D.I. It's a non-profit, vocational rehabilitation facility and a thrift store sponsored by the Church of Jesus Christ of Latter-Day Saints (Mormons). You can find out more about it here.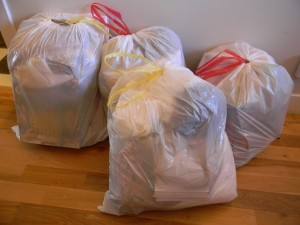 That's 124+ items this time and a grand total of 523 items so far. I can't even describe to you how freeing this feels. Try it, you might like it!
Thanks for stopping by and have a wonderful weekend! Valentine's Day is coming fast. Are you ready?