I haven't meant to keep you waiting for the giveaway results, but you know how things are when you come home from vacation. Sadly things don't get done by themselves when you're gone. Are you ready for this? Drum roll please……..and the winner is Lauren! Woo-hoo, woo-hoo, it's your birthday! Well, it's probably not your birthday (that would be weird if it was) but you get a present anyway. Are you excited? Here is the bag Lauren picked: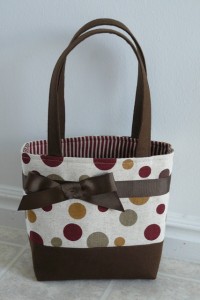 I know I'm jealous. Lucky Lauren! If you haven't had a chance to visit Chanelle's site yet, you should check it out www.shesgotpursenality.blogspot.com. Everything she makes is of the highest quality and she picks the most beautiful fabrics. Looking at all the comments it seems both types of dresses are a big hit. If you have a little girl you might want to keep that in mind. Since all I have is little boys and grandsons right now I might want to stick with the bags for now. All of her items would make a great gift for someone especially with the holidays coming up (or you could just buy one for yourself).
Thanks to all of you who entered. This was so much fun. I love giving free things away, so keep visiting because you never know when another one might be coming up and I don't want you to miss out. And please leave me comments. I love comments and I love to know when someone's visiting. I might even bake cookies!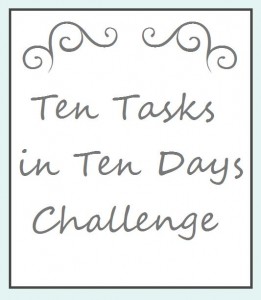 The Shabby Chic Cottage is having a 10 tasks in 10 days challenge and since I just got home I thought I would join to get myself back in the groove of things and actually get some projects completed. To join all you have to do is post your 10 projects on your site and get busy. Leave a comment on The Shabby Chic Cottage so she knows you're participating. Okay, here's my list in no particular order (no stress, right):
1. Make Fall come to my front porch. It still looks like Summer out there.
2. Paint mirror in living room black. I have been meaning to paint that for over a year now.
3. Make Fall leaf mobile/wind catcher. I actually made this last night. Yay, I can cross one off my list now. I'll show you how I made it further down on the page.
4. Finish decorating for Halloween. I did a little before we left for vacation.
5. Paint candlesticks – black, of course.
6. Make chalkboards. I am slow to jump on the bandwagon sometimes, but I'm ready now.
7. Make Halloween Postcard Banner. I'm doing this one today, so I'll have something to show you tomorrow.
8. Patch nail holes and paint trim and doors in the almost finished mudroom. I need to get busy.
9. Finishing touches in laundry room. I don't really have a laundry room, I have a laundry closet, so I've been making it over to be more inviting (plus I had a really cute idea with clothespins).
10. Paint light for mudroom. I am moving my diningroom light into the mudroom, but I'm going to paint it white before I hang it up (it's brushed nickel now).
Remember I completed number 3. I got this idea from Censational Girl and thought it was so cute. Here's what I started with: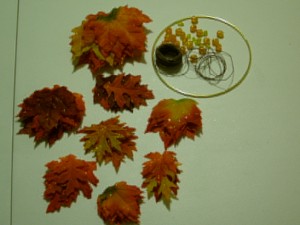 Hemp twine
Beads
Assorted silk leaves
Metal hoop
Cut 10 pieces of twine 36″ long. Tie each piece onto the hoop equal distances from each other. Then just start tying the beads and leaves on. Nothing was precise about tying them on. I think not having it perfect makes it look more natural. I did use some super glue at the knots to make sure they wouldn't come undone and to keep them in place on the hoop. Here's the end result from inside the house: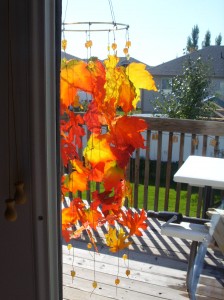 Hanging on the back deck: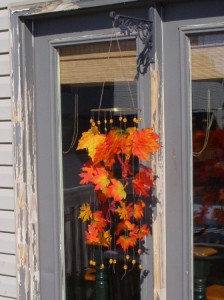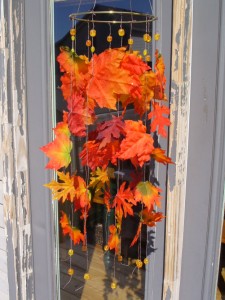 I love it. I know I need to paint the trim around my back door, you're not suppose to be looking at that. Look at the pretty Fall leaves. What do you think?
I'm linking this to Get Your Craft On at Today's Creative Blog, Fall Festival Week at The DIY Show-Off and DIY Day at A Soft Place to Land. I'm on my way now to check out other great projects.
Check Out These Related Posts