This is what your flower bed could look like if you don't take care of it in the Fall.
I'm taping this picture to my desk to remind myself not to let this happen again this year.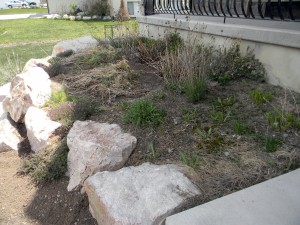 After hours of pulling, trimming, tilling, and raking this is what it looks like now.
So much better, don't ya think?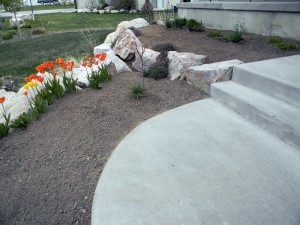 Although now I have some big empty spaces.
Some of the plant will fill out and I'm planning on buying more with some of the yard sale money.
I pulled out the carnations. They just weren't working there plus I think they were sick.
I also dug up some bushes that weren't doing well in all the shade they were getting
and moved them to a sunny spot in the yard. I hope they survive.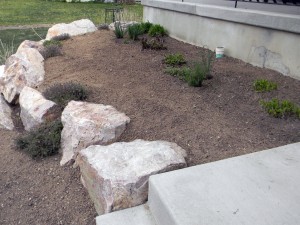 After all the outdoor fun I took it inside to work on the basement area.
What will be the guest room is now totally cleared out and ready to be worked on.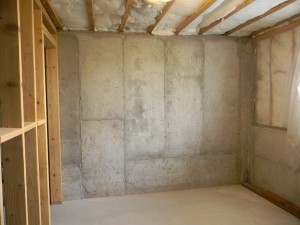 It's exactly the same floor plan as the bedroom directly above it.
It's not big (11′ 6″ x 10′) but I have big plans for it.
We had some water leaking in the corners so hubby patched it on the outside
and we patched it on the inside. Now I need to paint the whole wall surface just to be safe.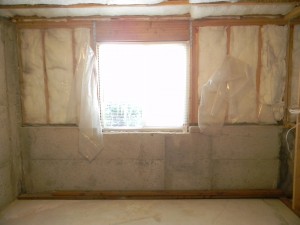 The furnace room is cleared out and done now too.
This is the essential side. Don't pay attention to all the temporary cords.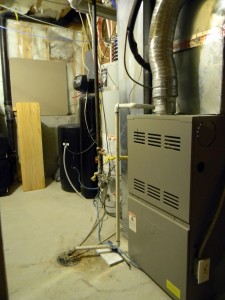 Hubby added this wall and made the room a little larger for extra storage space.
It cuts a little into my craft room, but it's worth it.
We'll need the extra storage space once the basement is finished.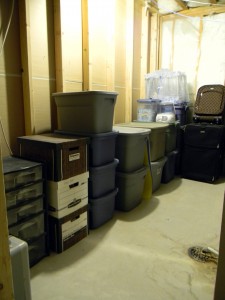 Here are the bags of garbage that are leaving my basement.
I love decluttering, having empty basement rooms, and a weed-free flower bed.
Sometimes it's good to get dirty.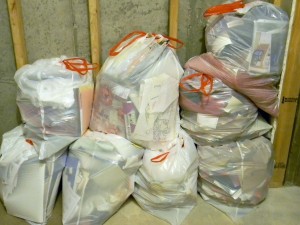 Don't forget the Home Decor & Organizing Link Party is every week now. So don't forget to link up your home related posts tomorrow. I can't wait to see what you've been working on.