I'm happy to introduce you to our new Party Contributor at Organize and Decorate Everything. I went over to check out Anne's blog and was instantly sucked in. I'm so excited to see all the wonderful party ideas Anne is going to share with us throughout this next year. She will be sharing Party inspired posts the 2nd Thursday of every month, so don't forget to come by. You don't want to miss out!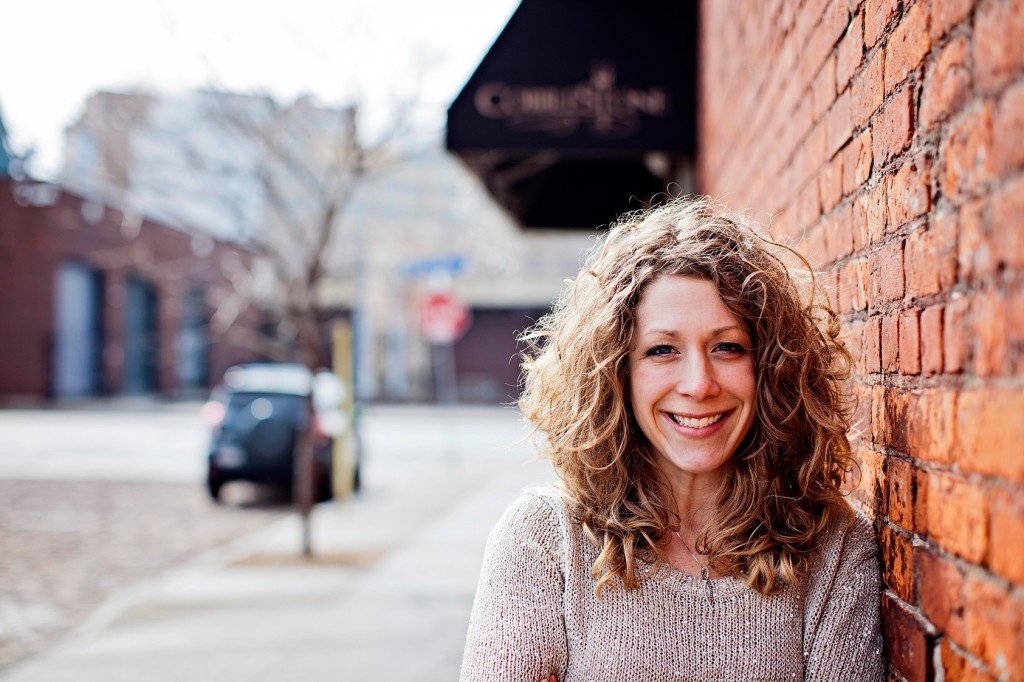 Hi, I am Anne from Circus Berry.  I am a licensed Speech-Language Pathologist-turned-business owner and blogger, living outside of Buffalo, NY with my husband, our two children, and our dog Mojo.  
I am a perpetual crafter, decorator, and inventor of reasons to have celebrations everyday. I have a passion for food, sunshine, fitness, alt rock, flavorful drinks, things that sparkle, and the color blue. The Circus Berry blog is an extension of my party-styling and design business, where I am inspired to share things related to living and loving life. Stop over to see the crazy, the creative, and the spark-tacular.
A couple of months ago, I helped style and plan a Geometric Rainbow Bridal Shower for a dear friend. The party was an intimate affair, colorful, not at all flowery, suited to her tastes and style, and chock full of DIYs.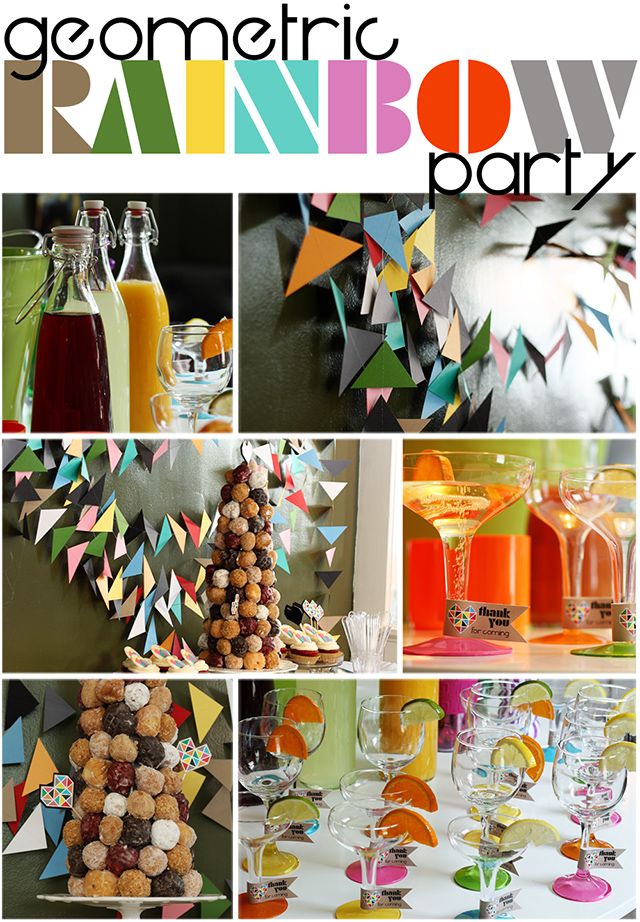 I have been waiting to share some of the highlights of the party and thought that now was a perfect opportunity to reveal the finished product, some star players, as well as some party secrets that can be easily applied to the most posh or simplest of soirees!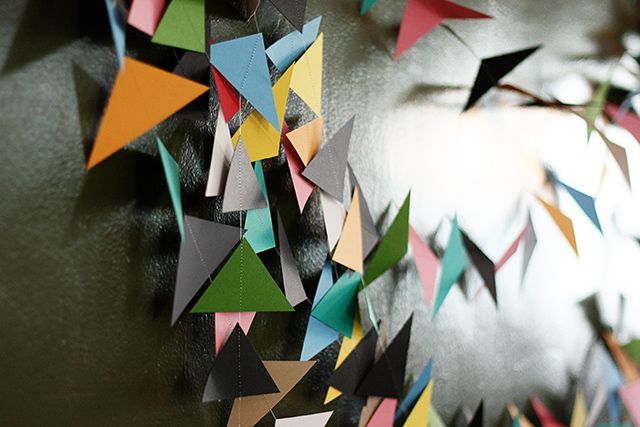 The colorful yet basic backdrop–I have seen geometric garland all over and was not mistaken when I thought how easy it was going to be to make it myself. If you have done buntings, banners, or dot/confetti garlands, than this geo garland is a no-brainer. Bright colored card stock was cut into triangles, then run through the sewing machine. We draped it against a solid wall and that was it! I was super excited to hear that my friend and her husband would be keeping the garland as part of their home decor!
Donut holes–Donuts and donut holes are cool, trendy, easy to eat, affordable, and if you get good ones, a fabulous treat. Displayed in the form of a tower, it was another star of the show. Some instructions for making a donut hole tower can be found here, but the long and short of it is to get a large styrofoam cone, wrap it in paper, and then again in plastic wrap. Starting at the bottom, insert a toothpick into the foam and attach a donut hole. Keep going, around and around until you reach the top.
Juices presented in swingtop glass bottles–Bright colored juices presented in simple carafes or bottles can also be a part of the decor. Disclaimer: I personally have an obsession with containers, of all shapes and sizes. That being said, a simple bottle or carafe can be used again and again, so go to Home Goods and splurge on the 4$ bottles for your next party. You will definitely get your money's worth out of them. For this party we served orange, cranberry, and lemonade to go with champagne for a make-your-own mimosa bar.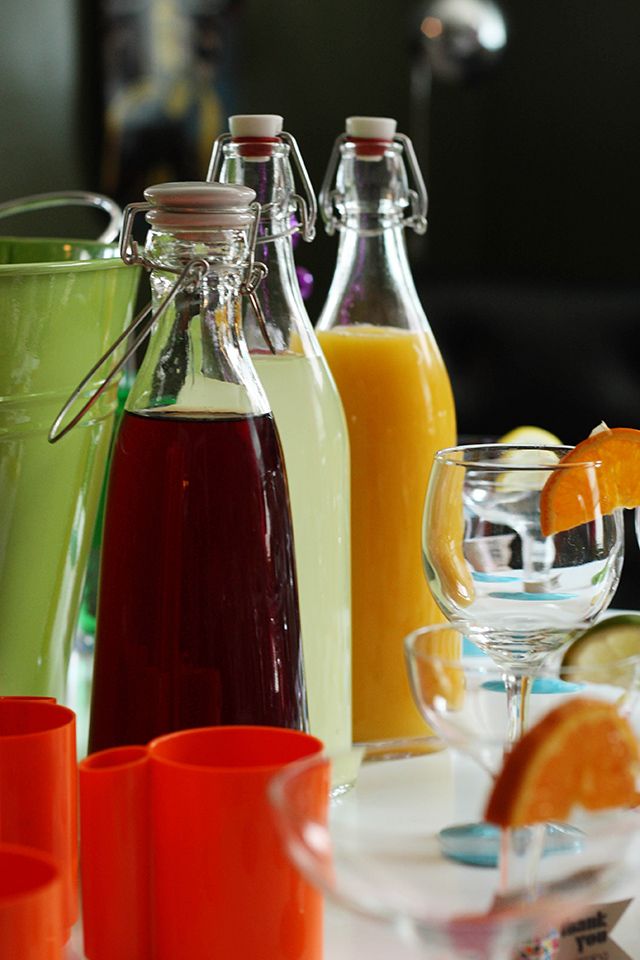 Handmade favors–The favors served as double-duty for this party…they were also the vessel for the make-your-own mimosas. These champagne glasses were collected from local thrift shops at about 79-99 cents a glass. I dipped/painted the bottoms to match the colors of the party. Again, a quick DIY with lots of flair. The full tutorial can be found at Circus Berry.
Hope you are inspired by how easy it is to deck out a truly fabulous par-tay with just a few secret weapons!!!
Thank you Anne! What do you think? I know I'm trying to think of some reason to celebrate and make that awesome geo garland. And who doesn't love a donut hole tower?