It's Thursday and I'm so happy Anne is here with us today. Her posts always make me so happy and want to have a party just so I can use her amazing ideas. This Fringe & Lace Banner is adorable. Anyone want to let me throw you a party because I really want to make this soon? You can bet I'm pinning this to make for next year's Cinco de Mayo celebration. Here's Anne!
Hey everyone and happy Thursday. It's Anne from Circus Berry to share some party fun with you. Things have been really exciting, and crazy, on the home front with a new baby in our lives. Among diapers and nursing and sneaking in the occasional nap, I have also had the joy of celebrating a dear friend's bridal shower recently. lt was a southwest-style fiesta filled with good food, lots of laughs, and reminiscing. And in true party-girl fashion, I threw together a couple of fun and bright tissue paper decorations for the party–including this pretty and feminine lace and fringe banner:
Making some tissue paper tassels is super easy using this tutorial. Bright colors are perfect for a fiesta…make lots! Then gather some squares of lace.
String it onto your twine, string, or rope of your choice. I actually dig the turquoise colored clothesline rope I found at the dollar tree. Love! Dab some hot glue to attach the lace.
It is that easy! And festive. And a bit girly. And so versatile!
Here is the banner in action.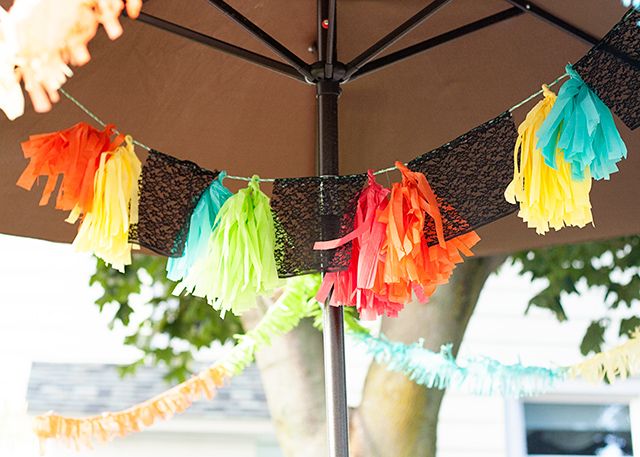 FIESTA!!!
I really am a fan of how the lace adds a little extra somethin'. Hope you enjoyed this fun and easy tutorial. See you next month!
Anne
Wish Anne congratulations on her new baby if you get a few minutes. She added a baby girl to her family recently and I couldn't be more happy for her. Don't forget to visit Anne at Circus Berry where she blogs regularly.