You all know I love free printables and I live for calendars, so what could be better than "free printable calendars"? And they're so cute. There's no way I'm going to be able to choose just one. I love these talented ladies and their willingness to share with us. So, go print yourself off one of these awesome free calendars.
Elle at Switcheroom shares her beautiful calendar with different backgrounds for every month.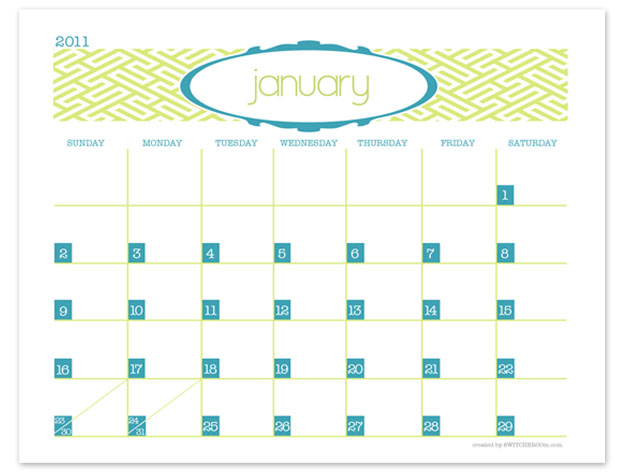 Lara at Less Cake More Frosting shares her simply beautiful January calendar. I love the color and pattern.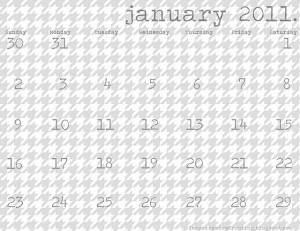 Joy at Creative Mamma shares this adorable mini calendar.
And her Doodle Write In calendar.
Kim at TomKat Studio shares her Modern Dot calendar.
Laurie at Tip Junkie shares her sassy 2011 calendar.
Leelou Blogs shares a beautiful January computer desktop calendar.
Becky at Clean Mama has a January cleaning calendar.
And Tauni at It's a Tradition has a 2011 resolution calendar. What a great idea!
If anyone else has a free calendar printable to share I would love to see it. Just leave a link in the comment area so everyone can find it.
It's good to know I'm not to only one who loves calendars. I just got my new day planner for this year and have been having the best time writing in it with my colored pens. This is my planner for 2011, in case you were wondering what I chose. It's the Franklin Covey Botanica One Page Per Day (spiral).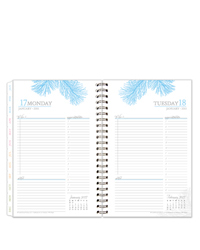 Don't forget to link your organizing projects to the first We're Organized Wednesday of 2011 (this week). I know you've all been working hard on getting organized.