I am happy to have partnered with Apartment Guide as an Official Apartment Guide Organizing Blogger. As an official blogger, I will be sharing ideas and articles for exploring your city, space and style.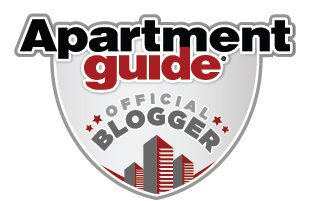 I was asked to be a contributor on one of Apartment Guide's Pinterest Boards. I adore Pinterest. I've collected many creative organizing ideas over the last few months (many I've been able to implement in my own home). Since there never seems to be enough space no matter how much square footage we have, I like searching for new ideas on how to store items and keep all my belongings organized.
I like multi-purposing and re-purposing items to organize my home. It's fun to find new uses for things plus it's inexpensive or sometimes even free. I also like stylish organizing that is decorative and organized at the same time.
Why not store files in a storage ottoman. You could also store blankets, games, craft supplies, extra bedding or we store Wii game supplies in ours. (source:undomesticatedconfessions.blogspot.com via Leanne on Pinterest)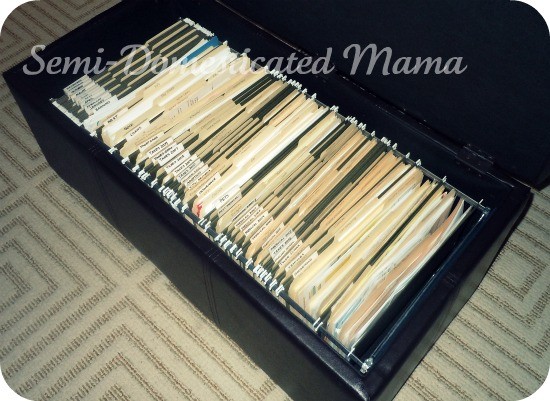 This stacking storage unit would be easy to make with cake pans and candlesticks or tubing between pans. It would be perfect for holding small items in a craft room or bathroom. (source: creatingkeepsakesblog.com via Leanne on Pinterest)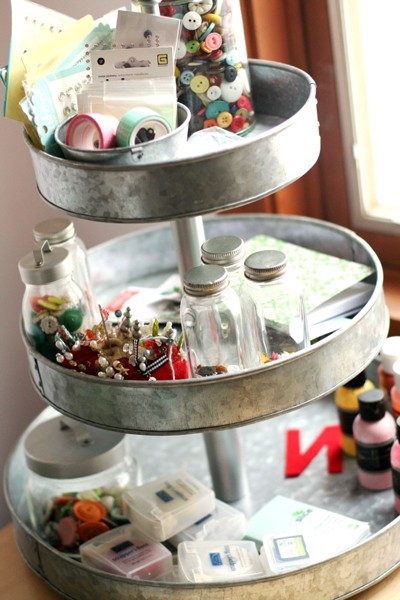 Use a muffin tin to organize a desk drawer, hair accessory items or to organize small items in a junk drawer. (source: joyfulhomemaking .com via Leanne on Pinterest)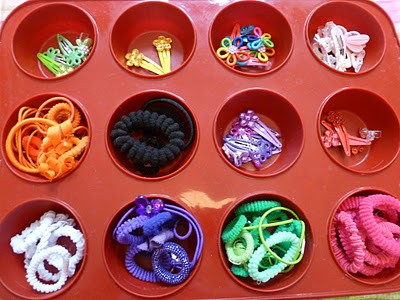 Do you have loads of earrings? I love this idea of using a rain gutter guard to organize all your big earrings inside your closet. (source: bluecricketdesign.net via Leanne on Pinterest)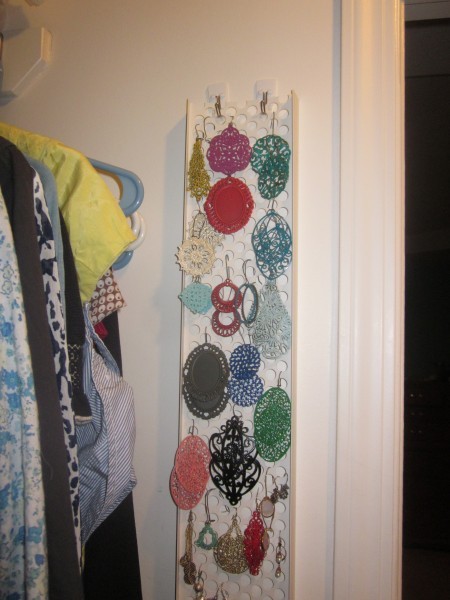 Use toilet paper tubes to organize unused cables and cords. (source: Leanne on Pinterest)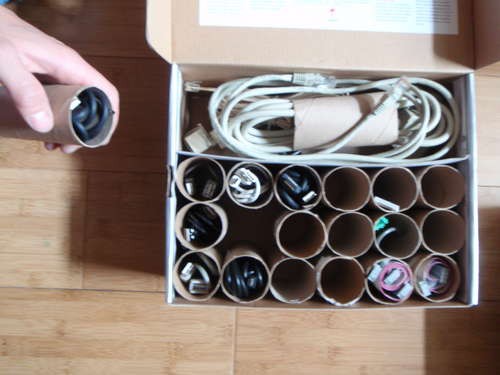 Use a mop holder to store spices on the inside of a cabinet door. (source: Leanne on Pinterest)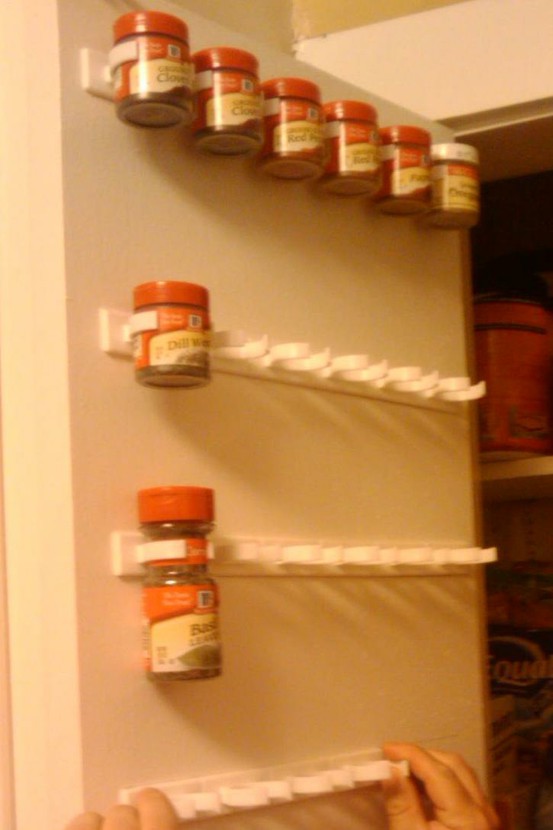 Use a wine rack and large cups to store markers, colored pencils, desk or craft supplies. (source: mycasestudies.blogspot.com via Leanne on Pinterest)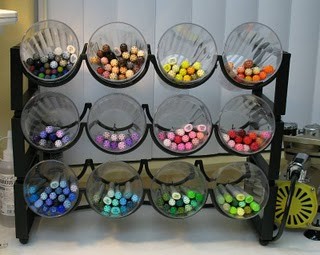 This is so cool! Use the bottom of a push broom to hold art supplies. I think I'm going to do this. (source: Leanne via Pinterest)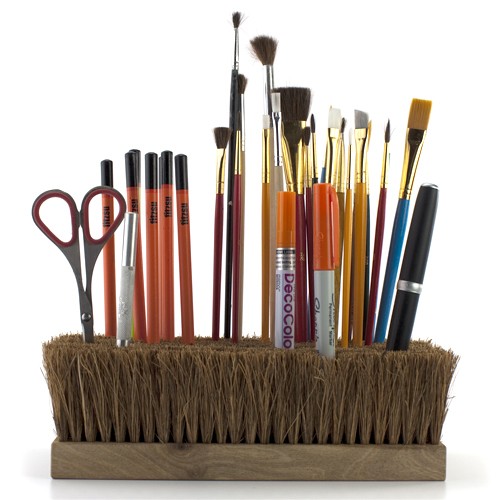 Use a wire basket attached to the under side of a desk or table to hold computer or other electric cords. (source: homedesign.marthastewart.com via Leanne on Pinterest)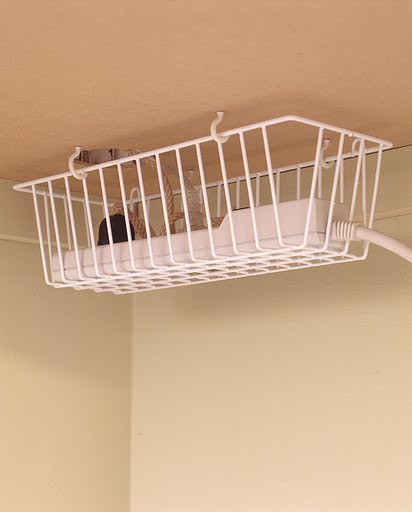 It can be hard to find storage space for towels in a small area. I love this idea of using baskets. (source: imbusyprocratinating.blogspot.com via Leanne on Pinterest)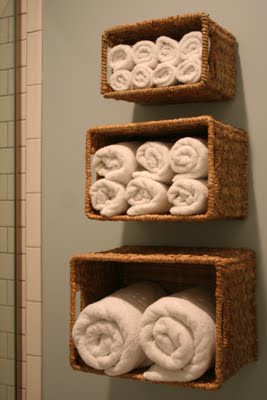 Why not use old and vintage items to organize things in your home. Vintage suitcases can be loaded with items and stacked in a corner or slid under a bed. (source: myhomeideas.com via Leanne on Pinterest)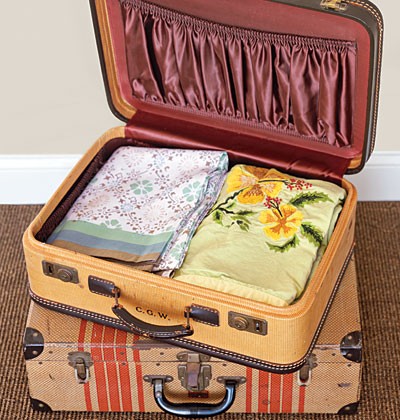 I love this idea of using shower curtain hooks to organize your bags on a closet rod. Plus it looks pretty. (source: tart-house.blogspot.com via Leanne on Pinterest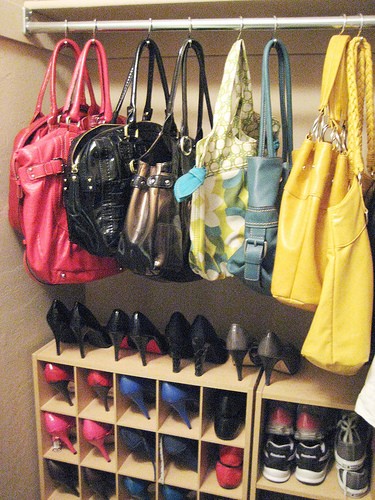 Apartment Guide has some awesome Pinterest boards worth exploring. You are guaranteed to get some great ideas for your space no matter the size. Visit the Everyday Items for Everyday Organizing Board to view these ideas and more.
· Whether you're living, looking or moving, Apartment Guide offers how-to tips for making the most of a space on http://www.movingtoday.comand http://www.apartmentguide.com/blog/.
· "Like" Apartment Guide on Facebook at Facebook.com/apartmentguide , follow them on Twitter @AptGuide and "circle" them on Google+for real-time tips and updates on making the most of your space and living on a budget.
· If you're ready for a whole new space or are looking to move, Apartment Guide has the photos, floor plans, features and tips to help you find the perfect apartment community.
Apartment Guide and owner Consumer Source, Inc. have partnered with bloggers like me as Official Apartment Guide Bloggers. As part of this program, I have received compensation. They have not told me what to purchase or what to say about the products used, and believe that consumers and bloggers are free to form their own opinions and share them in their own words. Consumer Source's policies align with WOMMA Ethics Code, FTC guidelines and social media engagement recommendations.