It's Why Not Organize Something Wednesday and I am exhausted. There's so much I need to get done. Just small things, but I need to be able to mark them off my list or I'm going to go crazy. So today's organizing is going to be a easy one. I don't have a ton of earrings, but I like to be able to see what I have and I don't like them tangled. This is what I have in my bathroom (I have more earrings on there now, this was taken a while ago):
Just take a frame you like and paint it whatever color you prefer (uhmm, black for me). Then cut the screen to fit the frame. Attach the screen to the frame with your handy dandy staple gun. Attach your ribbon of choice to the back of the frame with your staple gun again and you're done. You can use a knob, hook, or any other fun thing you can find to hang it from. I'm making some more of these for birthdays I have coming up, so I'll show them to you soon.
Here's the way we've organized my daughter's earrings. I love these ceramic egg crates. I have 2 of these in my bathroom now too. One for post earrings and earring backs and one for small bracelets. They have them at Tai Pan Trading for only $3.98: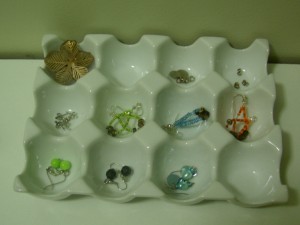 I have so enjoyed decorating for Halloween this year and so it continues. I thought my spiders needed a little makeover, so they got some glitter: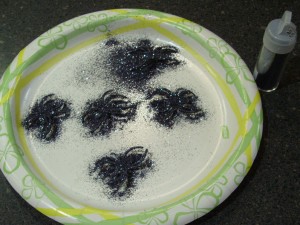 The orange spiders got "sterling" and the black ones got "hematite" from Martha Stewart: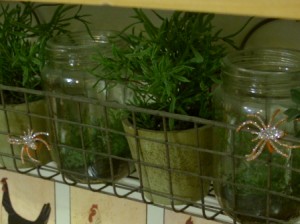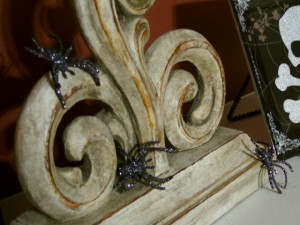 Then I had a pumpkin that needed some bling. I traced a "J" then lined it out and filled it in with a black paint marker. I love this marker, so much easier than paint and a brush: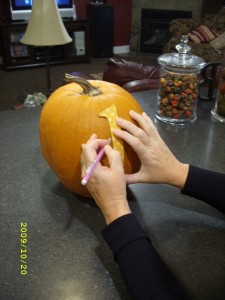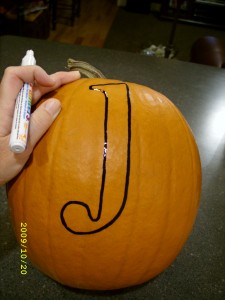 I let it dry for about 15 minutes then added the bling (got them at Big Lots for 50c):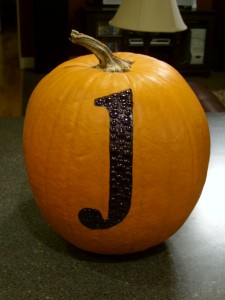 Here's a close-up. He's sitting on the front porch now. I'm not sure if it looks like warts or bubbles. Oh well, it's done: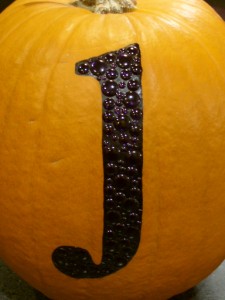 I'm linking to Works For Me Wednesday at We Are That Family. She has a list of 10 ways to please your husband. What's something you can you do to please your husband? I took boiled eggs and shoes to mine today, while he was at work. Does that count as one? I'm sure I can think of more ways.  
Have a wonderful day, whether you're organizing or crafting!