Or maybe I should call this undecorating the top of the kitchen cabinets. As usual, I forgot to take a picture of the top of the cabinets before, but this is all the stuff that was up there. I get a thought in my head and I just start doing it, remembering to take pictures later. I'll try to be better about that. Most of the items are pretty dark and I wanted to lighten things up a bit.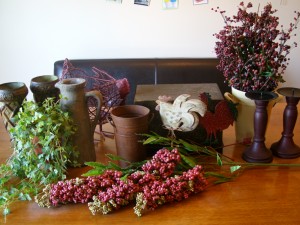 I've been storing all my drink dispensers and dessert stands in the mudroom on a shelf. I have to use a stool to get to them either place so I thought why not move them here to lighten up the space above the cabinets.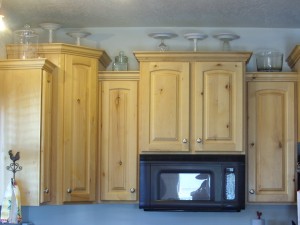 The cabinets are varying heights so I experimented with the stands in different places.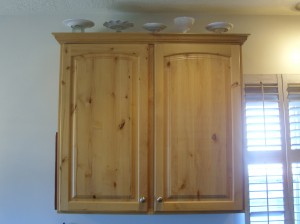 I put the drink dispenser on the easiest cabinet top to get to because we use it the most often.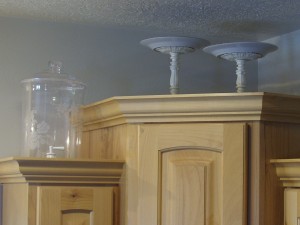 Here's the cabinets above the stove.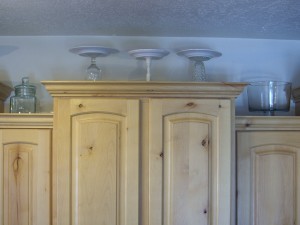 This cabinet is on the other wall. I put the white milk glass footed bowl on top of a cake plate to give it more height.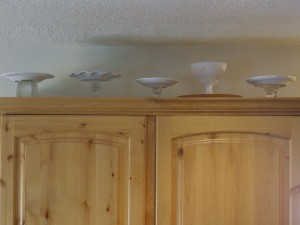 Here's a look at most of the kitchen cabinets. I love how much lighter and open the top looks now. Hubby even noticed the change as soon as he came home from work. And hubby doesn't notice much when it comes to decorating, so I'm thinking it's a good change.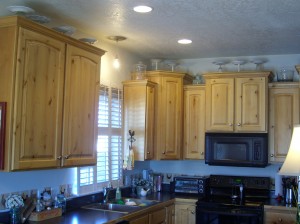 I'm linking to:
Tip Me Tuesday at Tip Junkie
Spotlight Yourself at It's So Very Cheri
Show and Tell at BLue Cricket Design
Works For Me Wednesday at We Are That Family
Whatever Goes Wednesday at Someday Crafts
Transformation Thursday at The Shabby Chic Cottage
Frugalicious Friday at Finding Fabulous
Show and Tell Friday at My Romantic Home
Frugal Friday at The Shabby Nest
Decorating Your Home at It's A Blog Party
Remodelaholics Anonymous Meeting at Remodelaholic
Metamorphosis Monday at Between Naps On The Porch
Just Something I Whipped Up at The Girl Creative