I'm not sure I'm ready to deck my whole house out for Halloween but I was so ready to decorate the tops of my kitchen cabinets. I decided to stick with a black and white theme, so I gathered some of my black and white Halloween decorations to decide what to use.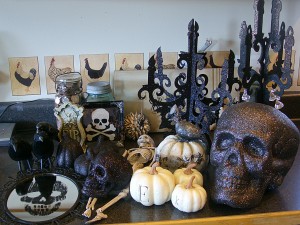 Since I'm not going to buy anything for Halloween this year (except candy) I decided to use what I already had on the cabinets and just add to it.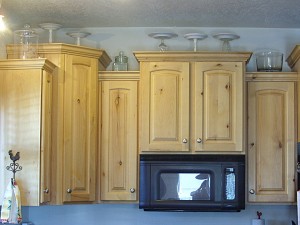 Since it's like a tray on the top of my cabinets, I used bowls turned upside down to add height to the smaller items.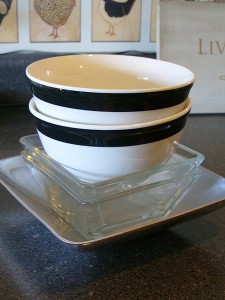 Here are the cabinets now as we go around the kitchen from left to right. I simply added a skull, grave stone, pumpkin, skeleton, spider and crows on top of the dessert plates. All of these items are from previous years and most of them are from the dollar store. The crow on the left has sticky tack on his feet to secure him to the cabinet.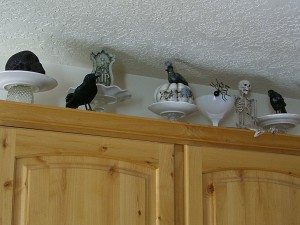 These cabinets are to the right of the kitchen window. I added a candelabra, skull and skeleton mirror to this area. The candelbra was from Michaels?, the skull from my secret clearance center and the skeleton mirror from Target.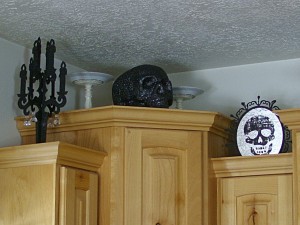 The cabinet over the stove has 3 pumpkins, a crow and a candelabra. I don't remember where the 3 pumpkins came from. The crow was from the dollar store and the candelabra was from Wal-Mart a few years ago.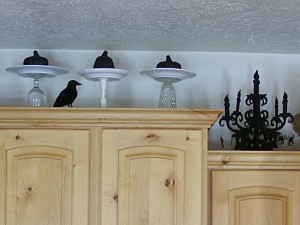 On the cabinet over the refridgerator, there's a bowl full of skeleton pieces from the dollar store and a magnetic board from Hobby Lobby painted with chalkboard paint.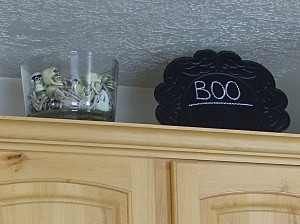 I'm happy I stuck with the black and white theme. I really like how it came together. The best part was it didn't cost one cent, just a little time and imagination.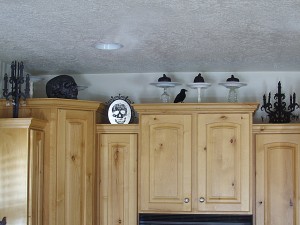 What do you think? Do you like the black and white or do you prefer orange and black? Since I used most of my black and white on the cabinets, the rest of my house is going to have a lot of orange (unless I paint everything white). Hmmmmm!
I'm linking to:
Feature Yourself Friday at Fingerprints on the Fridge
Decorating the Home at It's A Blog Party
Weekend Wrap Up Party at Tatertots and Jello
Saturday Night Special Funky Junk Interiors
Sundae Scoop at I Heart Naptime
Fall Get Together Party at It's a Blog Party
Make It 4 Monday at Cottage Instincts
Halloween Blog Link Party at Somewhat Simple
Fall Link Party at Tatertots and Jello