I rely on clipboards and I've got my kids to rely on them now too. We use them everyday. They hold school papers, sports schedules, reading charts, permission slips, etc. The kids are really good about taking care of the things on their clipboards themselves, even the younger ones.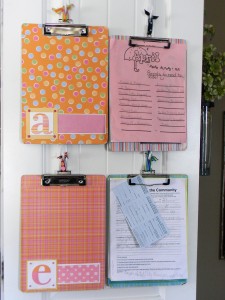 But there was a problem with how they were hanging on the inside of the pantry door. If someone would shut the door too hard the clipboard would get caught in the door or fall. This is what they started looking like. So I moved them to the mudroom lockers and that didn't work either. They would get lost under the coats, jackets, and backpacks.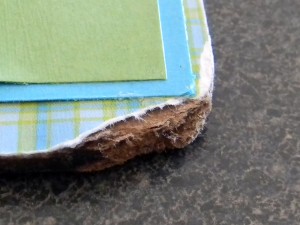 So back to the pantry they go! I took the Command hooks down. They are so easy to remove. Then I used replacement strips to put them back up in a different arrangement.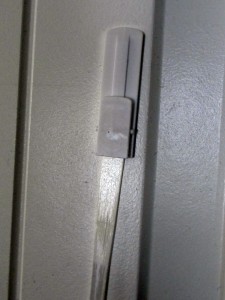 They work so much better on the inside of the pantry door now (I made new clipboards too). The kitchen is the center of our home so it just makes sense to have them there.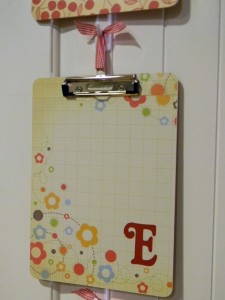 To make them work better I just hung them one on top of another. Now they don't get caught in the door and Ammon can reach his easier. So after some trial and error the clipboards are back where they belong.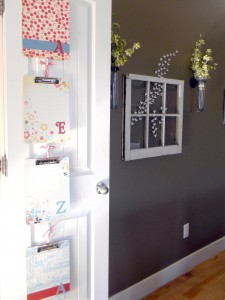 Organizing lesson learned: Try something again and again (if you have too) until it works for you.
I'm linking to these awesome blog parties:
Making Monday Marvelous at C.R.A.F.T.
Weekend Warrior Link Party at Ask Anna
Show Me How at It's A Blog Party
Tutorials and Tips Tuesday at The Stories of A2Z
Get Your Craft On at Today's Creative Blog
Show and Tell at Blue Cricket Design
Whatever Goes Wednesday at Someday Crafts