With Target having 75% off Christmas items, Hobby Lobby having 66% off, Wal-Mart having 50% off, Tai Pan Trading having 50% off, Big Lots having 50% off and Michaels having 50-70% off, I just couldn't stay home. I had to take advantage of some awesome buys and get some items for next year (for myself and for gifts for others). If you think you might be getting one of these as a gift next year, please don't memorize the price and remember it's the thought that counts. Just because I got a good deal it doesn't mean I love you any less. Here's some of my great buys. I love a great buy!
Remember those 3 1/2′ trees I bought last week at Roberts for the kid's rooms next year? I found ornaments to go on them (plus we'll make some next year). $1.50 each box at Target. The kids already picked out the ones they want for their tree.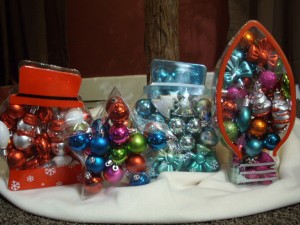 I had every intention of making one of these ornament trees this year when all the ornaments went on sale, but my daughter found this one at Target for $5. I couldn't pass it up or make it any cheaper than that, so it was sold. The boys thought it made a great hat.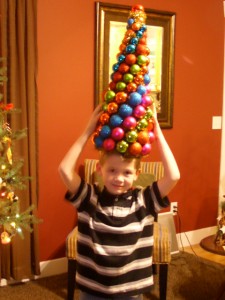 Look how big it is!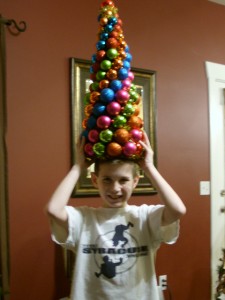 Other ornaments, all for $1 each box.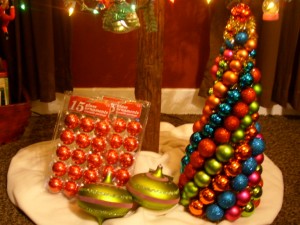 More ornaments from Wal-Mart and Tai Pan. The large box of balls for $1.50, the red and green balls for .75 cents each box and the silver ornaments for $1 and $2 each box.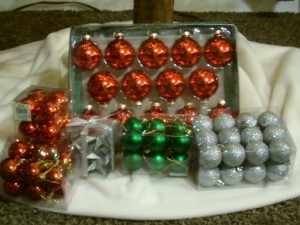 I don't know about you, but I have to replace strands of lights every year. These were only .62 cents a box. I love these Christmas cards at only $2.25 a box. You would probably think I would make my own Christmas cards, but I have too many to send out, so unless I start in August there's no way I would get them all done. These were from Target.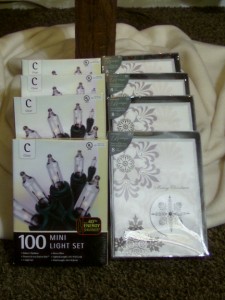 Gift wrapping supplies from Wal-Mart and Target. I bought the red bags for .25 cents each, the other bags for .37 cents each and the wrapping paper for .75 cents a roll. I still have some red polka dot paper to use next year too.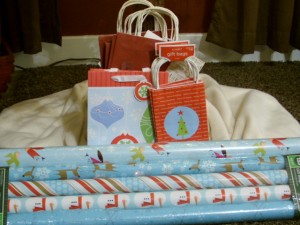 Little white trees for .25 cents each from Wal-Mart and a cute little penguin ornament for $1 from Tai Pan.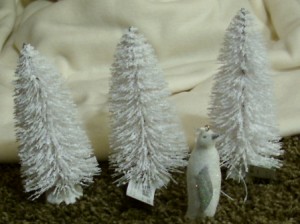 Red and silver ornaments for $2.50 a box (they're big) bought from Big Lots. I'll maybe hang them from the chandelier next year. Glittery picks for .18 cents each from Michaels, little stockings for $1 each and way cute mirrored ornaments for $1 each from Tai Pan.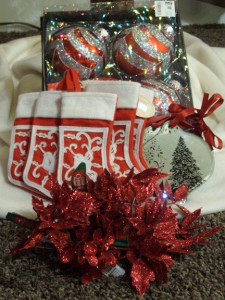 Oh, how I love ribbon! The top 4 from Big Lots for .50 cents each, the bottom 2 on the left from Michaels for $1.75 and $2.25 each and 6 on the right for .50 each from Wal-Mart.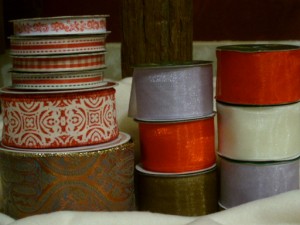 Pretty red candle holders for $2 each from Wal-Mart, tall faux mercury glass candlestick from Target for $1.25 and small faux mercury glass ones from Big Lots for $1 each.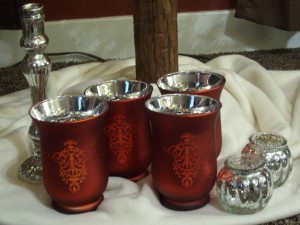 Silver and gold candleholders from Hobby Lobby for $1.25 each.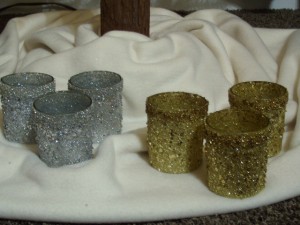 Two faux mercury glass candleholders for $2.50 and $2.75 and clear candleholders with rhinestones for $2.70 each. Both are from Hobby Lobby.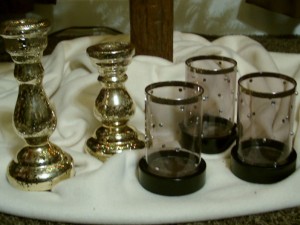 A grand total of $106.40 for 2 days of shopping. I got a lot of awesome decorations and gifts for next year. I'm already excited to decorate for Christmas next year now. How many more days? Just kidding! I haven't even taken down this year's yet. That usually happens on New Years Day. I guess I just don't want to holidays to end . 
Do you shop the after Christmas sales? When do you put away your Christmas decor?
I'm linking to:
Works For Me Wednesday at We Are That Family