I am happy to have partnered with Apartment Guide as an Official Apartment Guide Organizing Blogger. As an official blogger, I will be sharing ideas and articles for exploring your city, space and style. In this post I will sharing with you some great tips while moving and settling into your new place.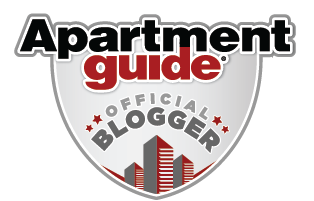 Apartment Guide is the best place to go when it comes to finding apartments in a particular area, price range, size and amenities but it also offers many informative articles about packing, moving and setting up your new place. Just go to the Apartment Guide Blog and click on the Moving Center category. There are so many fantastic and informative articles that I'm sure all your moving questions will be answered.
We're in prime moving season, but how do you find the best place in the best neighborhood for you? Apartment Guide has the key by following these tips to Prioritize, Research, Sacrifice and Visit.  This article gives you the tips you need to find the neighborhood that best suits your family. Don't be a stranger once you move in. Be sure to visit and explore everything your new area has to offer.
I love this article on Packing a Priority Box. What a great idea! Load your priority box with things you will need that first night and morning in your new apartment. This article has suggestions of the things to include in your box. Make sure the box is packed in your car and not the moving van.
Now that you've found your new place and moved in it's time to make it home. Setting up Your New Place can be fun and challenging at the same time. Use these tips to take your blank canvas and make it a place to show off your own personality and style.
Your neighborhood is like your extended family. It can be hard to get to know your neighbors though. This article focuses on Ways to Break the Ice with New Neighbors. There are some great ideas in this article that I never thought of. I think I need to implement some of them with my neighbors.
Using these tips your move and life in your new place should be smooth and relaxing. There are many more articles on exploring your new city, storage ideas and cleaning and organization. Be sure to check them all out by going to the Apartment Guide Blog. They're very helpful and informative.
Whether you're planning a move or have a friend, relative, or a child heading off to college let them know about Apartment Guide's great resources to help them in their search for their perfect new apartment. Moving is hard enough but by using all the resources Apartment Guide has to offer your move can go much smoother and you'll be much happier in you new place.
o ApartmentGuide.com is one of the most comprehensive apartment search sites on the Internet, allowing you to search by price, amenity, and location — including specific locations like colleges and military bases as well as town or city.
o Let Apartment Guide show you lists of available apartments in your desired neighborhood with up-to-date listings on its mobile application that's always ready when you are.
o Tag @aptguideusing the #Officehours hashtag on Twitter to received customized help from Apartment Guide on your apartment search.
o Apartment Guide provides an array of moving and settling in updates and tips for dwellers in any sized home. To stay one step ahead of your move, check out the Apartment Guide moving checklist.
Apartment Guide and owner Consumer Source, Inc. have partnered with bloggers like me as Official Apartment Guide Bloggers. As part of this program, I have received compensation. They have not told me what to purchase or what to say about the products used, and believe that consumers and bloggers are free to form their own opinions and share them in their own words. Consumer Source's policies align with WOMMA Ethics Code, FTC guidelines and social media engagement recommendations.