Oh my, you ladies have been working hard. I'm in awe of all your great organization skills being linked to We're Organized Wednesday this week. You can link to the party and enter the giveaway through this Saturday. Just go here. Take the time and look over some of the great links, if you get the chance. You won't be disappointed. I'll be featuring some of these great ideas tomorrow.
I didn't think I would be able to find 13 things in Ammon's room to get rid of or move to where it belonged. I had just decluttered and organized both the boy's rooms before Thanksgiving. Well, I ended up finding 16 15 things. I guess that just goes to show me how often I should declutter.
Apparently he hit a little growth spurt and out grow some of his clothing (7 items)
The football is going with the outside toys (1 item)
Apron- too small (1 item)
Hat- doesn't wear (1 item)
My boot box- he has 3 drawstring bags so I thought I could sneak the box out and into the garbage. He saw it outside and brought it back into his room. I guess I can't count this one now.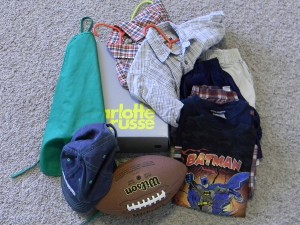 I know these are Christmas decorations, but I'm considering them clutter now that Christmas is over.
Reindeer (1 item)
Nativity (1 item)
Tree and Ornaments (1 item)
Paper Stocking (1 item)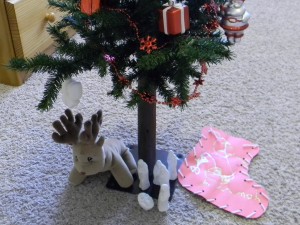 The Route 66 plaque has been sitting on Ammon's dresser for over a month, so it was clutter. Now it's hung where it belongs, no more clutter. Oh, and it took me about 15 seconds, so why didn't I do it sooner?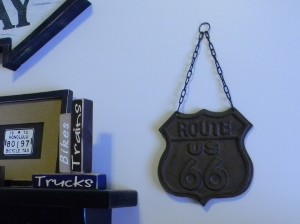 Now, my bedroom. It became a dumping ground after Christmas, so I really didn't have a hard time finding 22 things (even though I had just decluttered it around Thanksgiving).
Bags of Christmas items for next year (2 items)
Hubby's China book (1 item)
Spray paint from my stocking (2 items)
Hubby's gloves (1 item)
Command strips (1 item)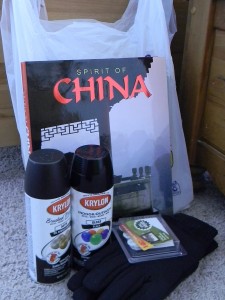 Magazines for the recycling bin (2 items)
Paper cutter to craft room (1 item)
Hubby's socks- he hates them and got new ones in his stocking (4 items)
Shirts- don't fit anyone (2 items)
Grandchildren pictures to be hung up (1 item)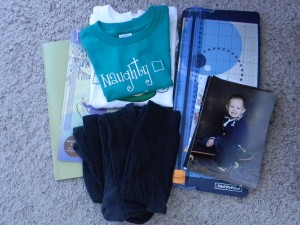 Laundry basket from guests (1 item)
Basket of supplies from guests (1 item)
Christmas door hanger (1 item)
Books (2 items)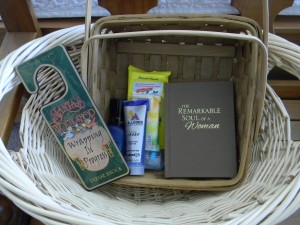 And look what I found. An under the bed storage drawer for all my boots. It used to be Ammon's extra storage for under his crib and toddler bed. Now it's under my bed and perfect for my boots!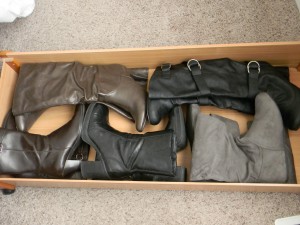 That's a total of 100 things that are leaving my home or put back in their proper place just since Sunday. It's actually more, but I counted all the pictures, the bag of Christmas gifts, and little sample toiletries as one. Man, this feels good.
I'm linking to:
Hookin Up With HOH at House of Hepworths
Remodelaholics Anonymous Meeting at Remodelaholic