I'm a little late this week, so here it  goes!
Sunday- After church we eat a quick lunch then sometimes take a short nap. Well, us older ones do anyway. The rest of the day is spent watching movies, playing games, preparing dinner and sometimes car rides. I love how relaxed Sunday is. Maybe that's why Mondays are so hard.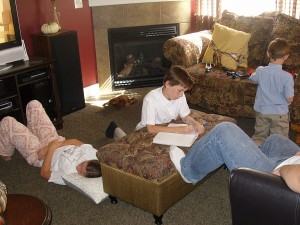 Monday- It's Homecoming week at Amanda's High School. They're having different activities after school this whole week. They spray painted t-shirts and sidewalks today. Go Titans!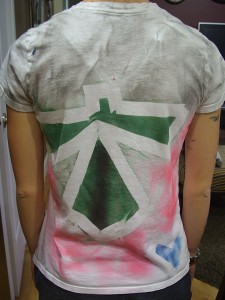 Tuesday- The sky was amazing tonight. Ammon and I walked down the street and snapped a few pictures. I love this barn.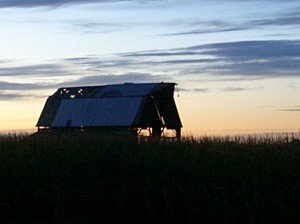 Wednesday- Ammon and Zach usually have soccer practice on the same night but Zach had it a day early this week. Ammon wanted to come along to watch Zach practice, but since we ended up on the playground I think he had alterior motives.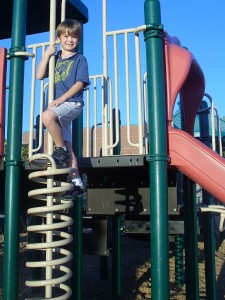 Thursday- The High School had a parade today for Homecoming week. Amanda and some of her friends were in it, but I didn't get a picture of her. This is the drama club advertising their upcoming play. All the other clubs and sports were represented in the parade too. It went right in front of our house so Emilee sat out front and got lots of candy being thrown from the parade.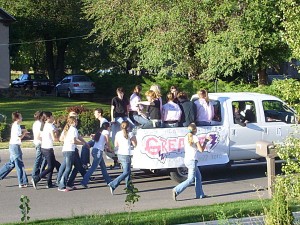 Friday- Hubby and I were invited to the Treehouse Museum Fundraiser Gala by some good friend in our neighborhood. We had a great time. Lots of yummy food. We met some really nice people. And got to see how the other half lives. The biggest bid of the night was for a trip for 2 to London for a week. Yeah, we didn't bid! The dessert was so pretty I almost didn't want to eat it. Merangue filled with lemon curd and topped with blackberries, surrounded by a creme on glaze and blue syrup. Garnished with a chocolate sea star. Yum!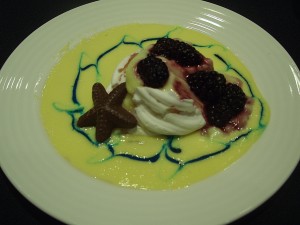 Saturday- Since we didn't plant a garden this year I've been stopping by local farms and the Farmers Market for fresh produce, especially tomatoes. Our town is only having the market for 1 more week. They hold it in the parking lot next to the City museum. I bought corn, tomatoes, peaches and honey this week.