I shared this last week as a guest post on Someday Crafts. Thanks Michelle for letting me visit.
Here is my inspiration for this project. I only have 4 kids at home right now, but most days my kitchen counter looks like this. After a few hours I get frustrated and usually pick them all up and throw them in the sink or load them in the dishwasher. Then the kids get new cups out and the cycle starts all over again.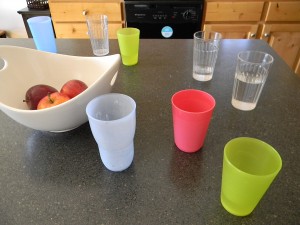 I found this tray at Target, on clearance for only $2. 40. It's not a bad looking tray, but I only bought it for it's shape. It's getting painted with Krylon paint for plastics.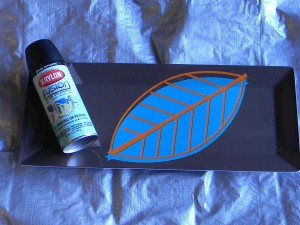 Black, of course. If you're new to my blog, black is my "go to" paint color.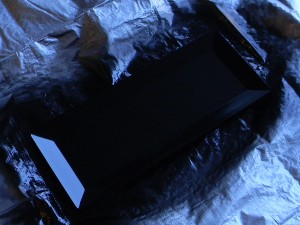 I cut some letters out of shelf liner with my Cricut.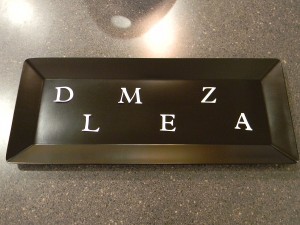 Then some circles and laid them out on the tray to check the placement.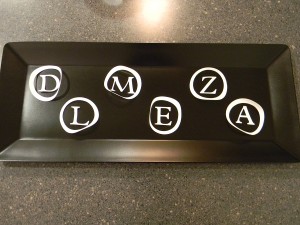 I don't measure everything precisely. I eyeball a lot of things. I started in the middle and worked out from there trying to space the circles evenly.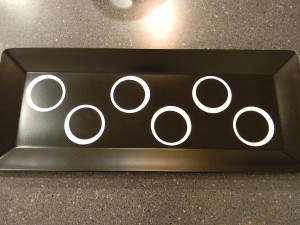 Then I added the initials of our first names. Amanda's is the "M". Amanda goes by Manda and the "A" was already taken by Ammon. I really have a thing for black and white so I love how it turned out. Now that I have it finished it kind of  reminds me of typewriter keys. Don't ya think?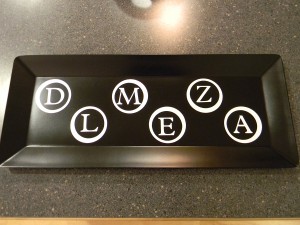 I placed it on the small counter between the stove and fridge.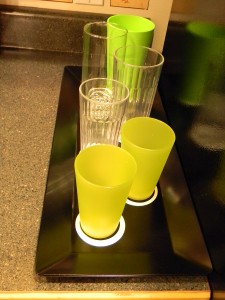 The ice and water dispenser are right on the door of the refrigerator so this was the perfect place for the tray of glasses. Yay, now the drinking cups all have a place of their own and we don't have to guess which one is which.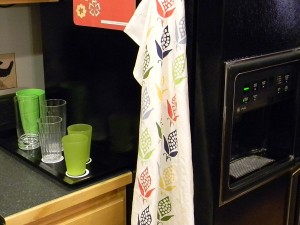 I'm linking to:
Free For All Friday at Sassy Sites
Home and Family Friday at Home Is Where My Story Begins
Get Your Craft On at Today's Creative Blog