Welcome to this month's Point of View Link Party and reveal. I'm so happy to have you join us again. The theme for this month is Orange. I love how diverse all of our projects are. That's the whole point of the party, to share your own point of view.
This is such a talented group of ladies. Check out all the projects by clicking on the links below.
Gwen at Gwenny Penny
Leanne (click or just page down)
Amy at Ameroonie Designs
Jonie at Just Between Friends
Ashlee at I'm Topsy Turvy
Now we'd love to see your Point of View. Link up all your orange related posts. I know you've been working on Fall and Halloween projects, if they're orange link them up or go through your archives and find all the orange projects you can. Each one of us will be featuring and pinning our favorite project.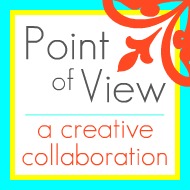 Thanks for joining the party!