A lot of you already know how to make these, but this is for those of you who don't. I made these for a wedding reception this Friday. Cute colors, huh?! So Bright and Springy!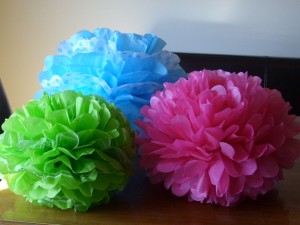 This is the tissue paper Ashlie brought over for me to use. I made them 3 different sizes, but you construct them all the same way.  Just cut more paper off the ends if you'd like them to be smaller.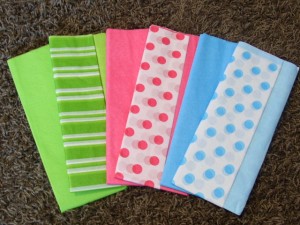 Start with 10-12 sheets of paper. I put some of the polka dot blue paper in with the solid blue (2 solid, 1 dot, 2 solid, 1 dot, 2 solid, 1 dot, 1 solid). Stack the sheets on top of each other and start folding accordion style. Folds should be about 1 1/2″ wide. If you're making smaller poms make the fold width about 1″ wide.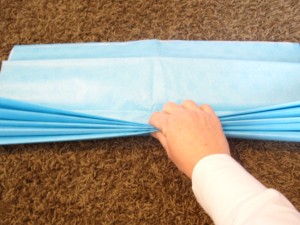 Once you're done, fold the paper in half just to find the center of the paper.
Cut a piece of wire 6″-8″ long. Put the wire in the center of the paper and twist the ends together to keep the wire in place. This will be in the center of the pom.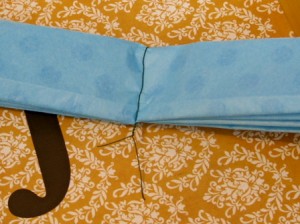 Make a loop with the ends of the wire. Put ribbon, string or fishing line through the loop, when you're finished making the pom, to hang it by.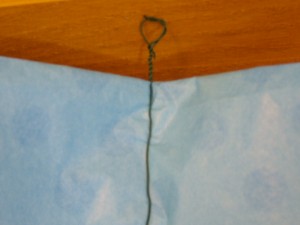 Draw an arch or semi-circle at each end of the paper to form the petals.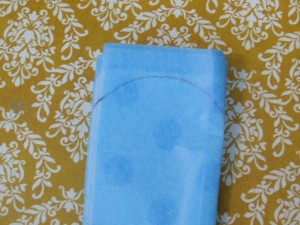 Use sharp scissors and cut through all the layers of the tissue paper.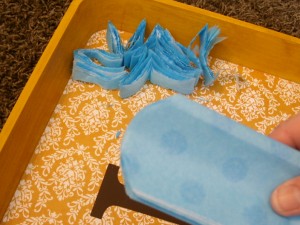 Fan the paper out like this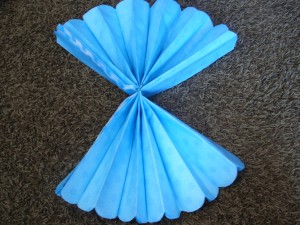 Then start pulling the papers up (towards the center) to form the pom, one sheet at a time. You need to be careful so you don't tear the paper. Be gentle at first, you can make adjustments later. This picture is half a pom.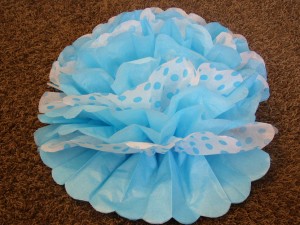 Fluff and make adjustments to the poms till they look the way you like. The pink one is all solid sheets and the green one is 7 solids and 3 stripes.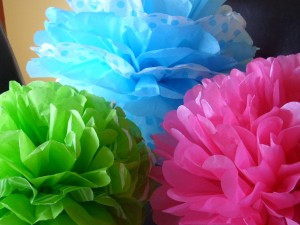 So fun! I want to make these for every party now.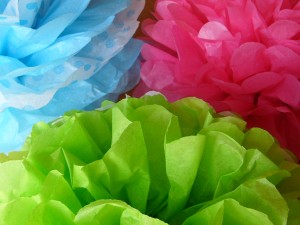 It looks like Spring on my table until the Bride comes to pick them up. I think she's putting these on or above the signing table. Such happy colors! Best Wishes Ashlie and Chad!
I'm linking to:
Strut Your Stuff Thursday at Somewhat Simple
Get Your Craft On Thursday at Life As Lori
Feature Yourself Friday at Fingerprints on the Fridge
Creative Cats at Poppies at Play
Saturday Nite Special at Funky Junk Interiors
Weekend Wrap Up Party at Tatertots and Jello
Craft Schooling Sunday at Creative Jewish Mom
Motivate Me Monday at Keeping It Simple
DIY Project Parade at The DIY Showoff
Made It Monday at The Persimmon Perch
Spring Fling Party at This Blessed Nest
Talented Tuesday at My Frugal Family
DIY Day at A Soft Place To Land
Show and Share Day at Just A Girl
Show and Tell at Blue Cricket Design
Whatever Goes Wednesday at Someday Crafts
Bring In The Spring at Posh Pieces
Flower Categorically Crafting Show at Someday Crafts
Martha Stewart Inspired Challenge at The CSI Project