I got an idea for a wall in my home that needed to be filled, so I got to work buying these and sprucing them up. The letters represent our last name and first names of the members of our family.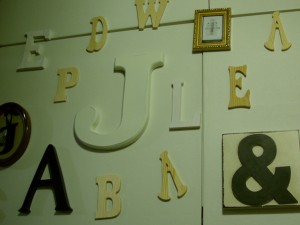 Here's some I worked on yesterday. I got this frame at the DI for .50c and the metal letter at Hobby Lobby for $1.99 (the ribbon was already on it). First, I had to paint the frame black then I just added the scrapbook paper and the letter (it was already black).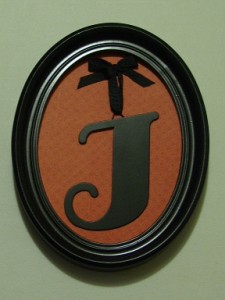 I took this frame out of my stash in the basement and painted it black. I bought these game pieces from an Antiques Show a few months ago. I have a lot of them so I used a few to make the "J". All the numbers have a meaning to our family. Sometimes I had to be a little creative with the numbers. 68 is our anniversary, June 8. 81 is the year our first child was born. 23 is suppose to be 2003, the year our last child was born. The two 4's are for 4 girls and 4 boys. 16 is for how many we have in our family right now. 3 is how many grandchildren we have. 6 is for how many we will have by May of next year. 47 is my age and 49 is Hubby's age. I like how that all worked out. The sheet music is for how musically talented my family is. Everyone, except me.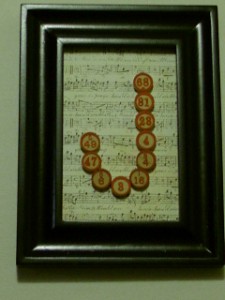 Yes, first I painted the frame black. It was a gold colored Dollar Store frame. I always have those on hand. The "T" is a card I found in a scrapbook store. I like that it says "treasure" too, because family truly is a treasure.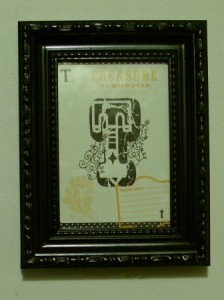 I worked on the big "J" but need to add something to it, so I'll show it later. Hopefully I'll have all the monograms done by next week and can start hanging them on the wall. So far the cost is about $3 for all three monograms I've completed. I'm linking to Creative Cats at Poppies at Play and Show and Tell Friday at Romantic Home.
Have a Beautiful Weekend!
Check Out These Related Posts