It's never too early to teach your kids about money responsibility. One of the ways we have helped our kids understand finances is to make money jars for their allowance and other money they receive. By dividing their money up into different jars they are being responsible and setting goals from the very beginning.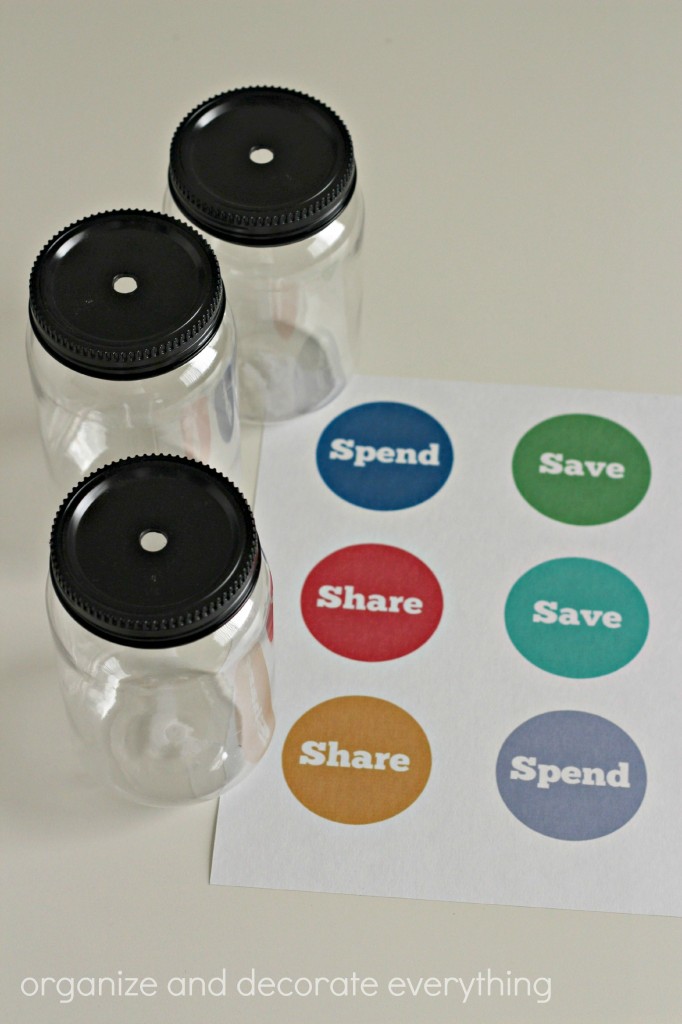 I started with plastic mason jars with lids, they can be purchased at WalMart, Target, Dollar General, Dollar Tree, and many other stores. It doesn't matter that they have a small hole in the top because it will be covered. You can also purchase slot coin lids on-line if you prefer those. I made a printable for your lids in a choice of a few colors. You will be able to print off the whole sheet below. If you prefer to use the slot lids you can adhere the tag to the side of the jar.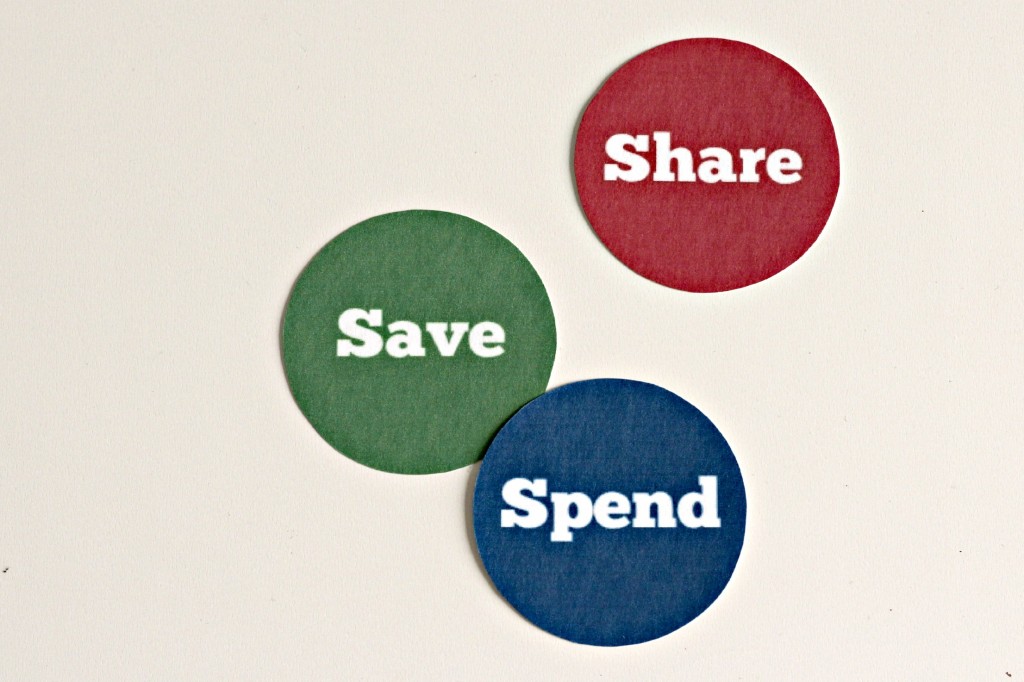 Print out the jar lid printable and cut out your color choices. Since these were for Ammon he chose red, blue, and green.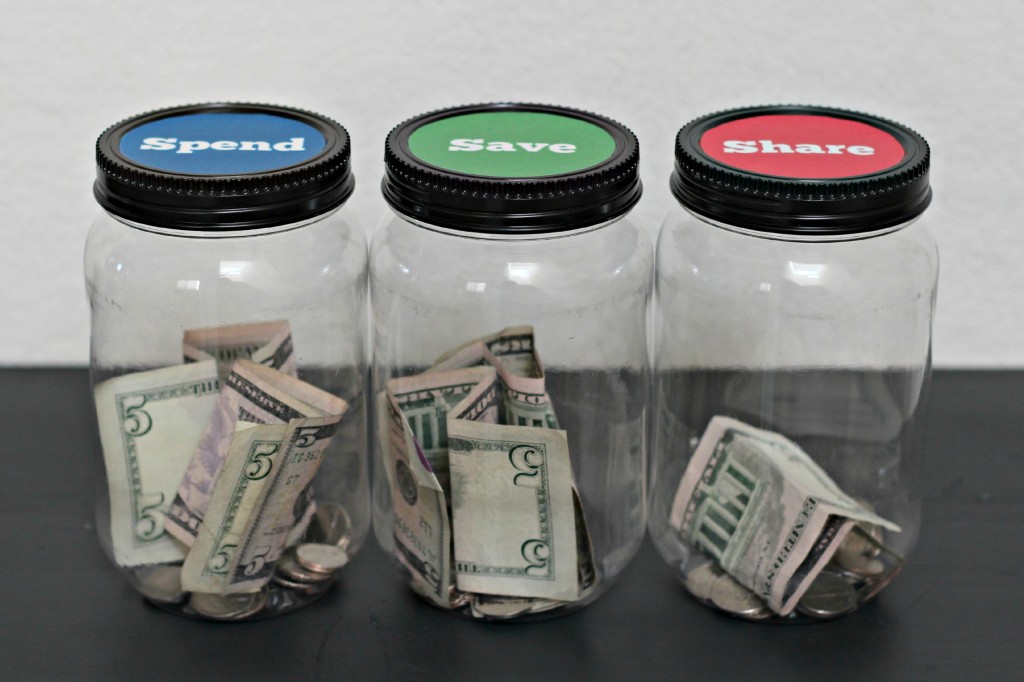 The concept we use is very simple. I think for kids, easier is better. Here's an example: $10 for allowance, $1 goes to Share which in our case means tithing (It can also be used for other kinds of donations), $4 goes to Save and $5 goes to Spend. Extra money such as birthday money can also be divided between the jars, especially if something really big is being saved for.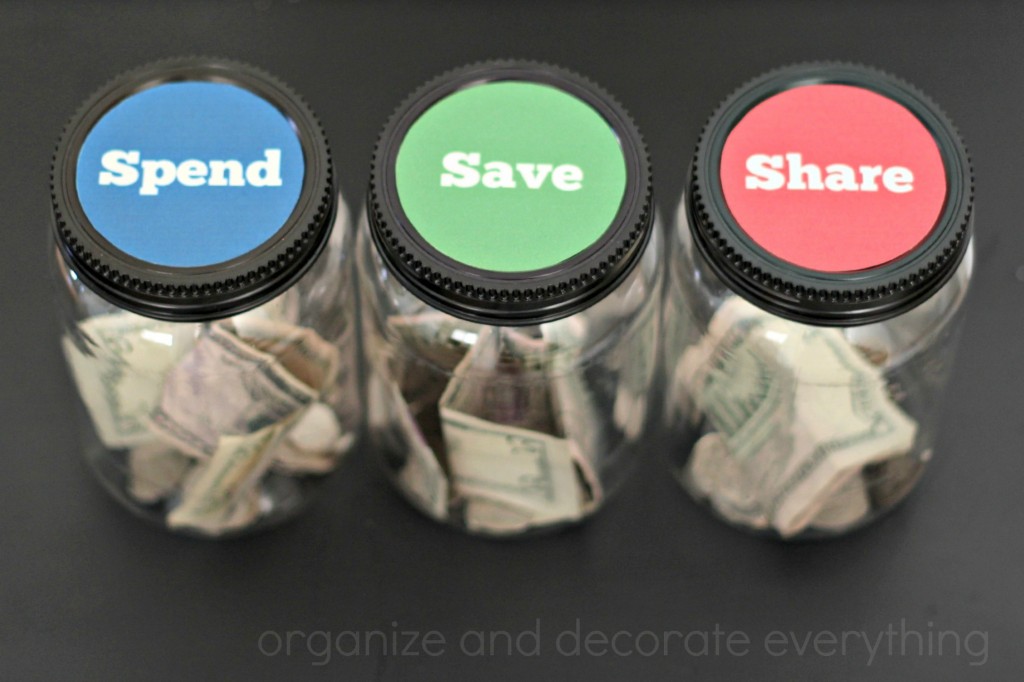 Here are 10 more ways to help your kids learn about and understand finances.
1- Take advantage of teachable money moments. These can happen at any time. Look at ads and talk about small and large buying decisions. Compare prices and quality at stores, on line and in publications. You can even make it a game at the store by having a competition to find the best price of a certain item.
2- Teach finances according to your child's age. Age 3-5: Create money jars and teach them about saving and spending. Have them set a goal to save towards something, but not too high, it needs to be attainable so they can see the reward of saving for something they really want. Help them count their money when it's being added to so they can see their progress. Age 6-10: Give your child a little money while grocery shopping and let them make comparisons on brands and/or generic products. Talk about decisions, buying things on sale, and comparison shopping. Age 11-13: Start talking about compound interest and have them do a few calculations for better knowledge. Have them save for something a little more expensive, instead of spending their money on a lot of smaller items. Age 14-18: Talk about college education and how much it will cost. Start earning more money through a part-time job or odd jobs such as lawn care or babysitting. Teach them about credit cards and how to limit their use or not using them at all.
3- Teach the differences between needs and wants. Help them understand they don't have to purchase everything they want just because they have to money to do so.
4- Help them set goals. They can't obtain a goal they don't set.
5-Give them their allowance in small denominations so it's easy to divide between all the jars. Anything to make it easier on them.
6- Let them make small spending decisions whether they're good or bad. They will learn from the experience.
7- Keeping track of spending can be as simple as writing down a purchase on a small slip of paper and placing it in the jar to replace the money that was removed. This can be a great learning experience in deciding wants and needs.
8- Once they are a little older, talk about credit card purchases, interest, paying the card off, verifying charges, calculating tips.
9- Have family discussions about finances. Include the kids in the discussions to help them understand and be included in some financial decisions.
10- Take a trip to the Credit Union. Once their Savings reaches a certain amount, talk about placing it in a savings account and adding to it there. The Credit Union would love to talk to your child about opening an account and saving for the future.

Start talking to your kids about finances as early as possible. The earlier in their life, the better understanding they will have. The main goal is to prepare them for financial understanding by the time they leave your home.
If you would like this free Save-Spend-Share printable just click on the link below the picture.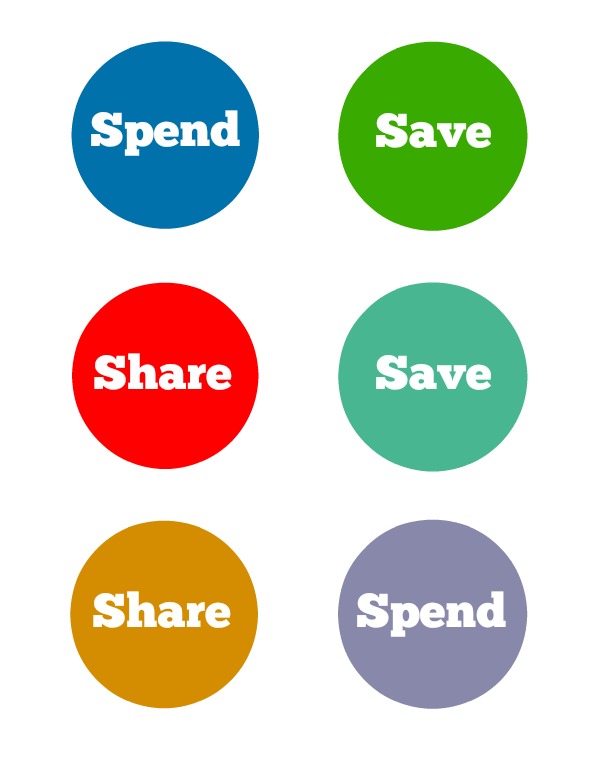 To find out more about financial services, accounts, and many other services visit America First Credit Union. Follow AFCU on facebook for more information, contests, and special events.
This post is sponsored by America First Credit Union but all words and opinions expressed are 100% mine.