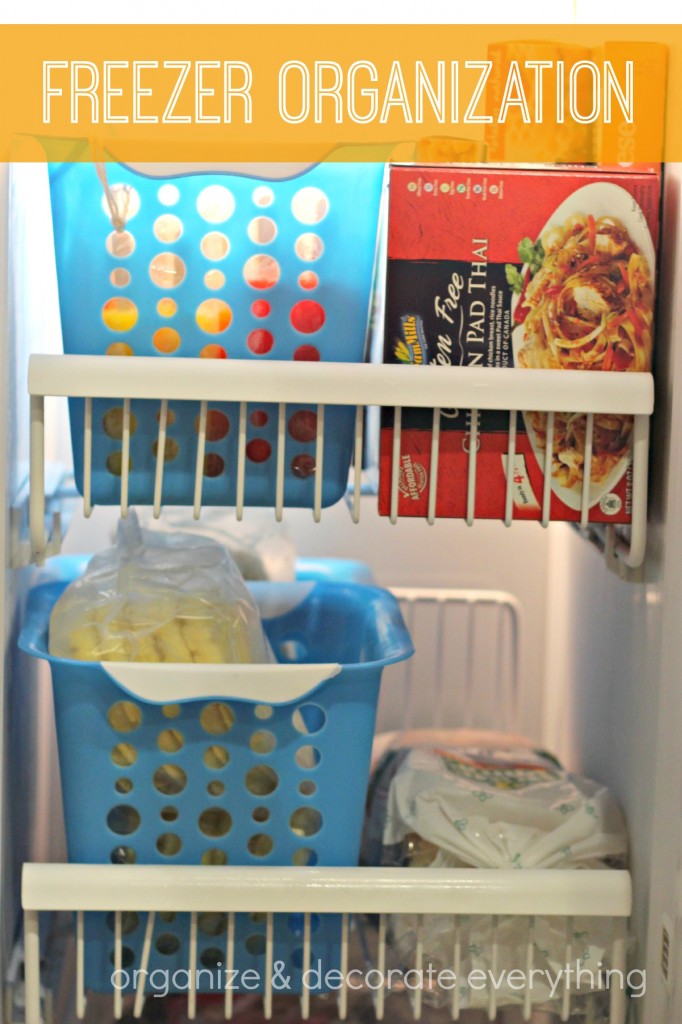 Let's talk about freezer organization. There are many different sizes and styles of freezers so there are many different ways to organize them. I'm going to share with you some general rules so you can get your freezer organized once and for all.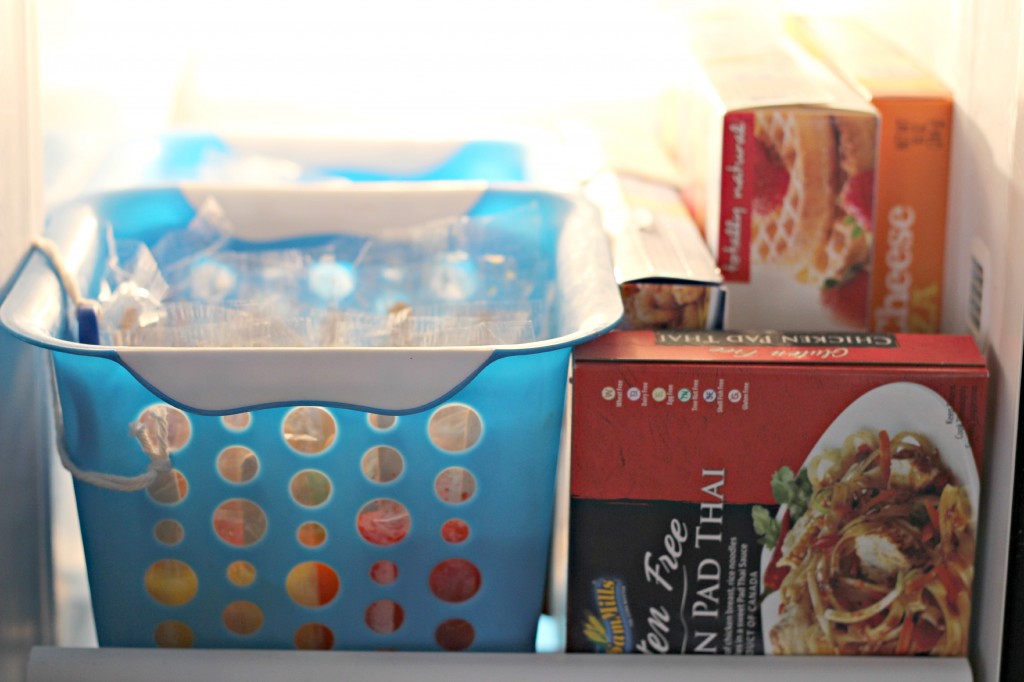 Keep Like Things Together – I have Celiacs so the top shelf is for my gluten-free food. My things are kept separate because of cross contamination and so my food doesn't get eaten by mistake. It's too expensive to be eaten by everyone when it's not necessary.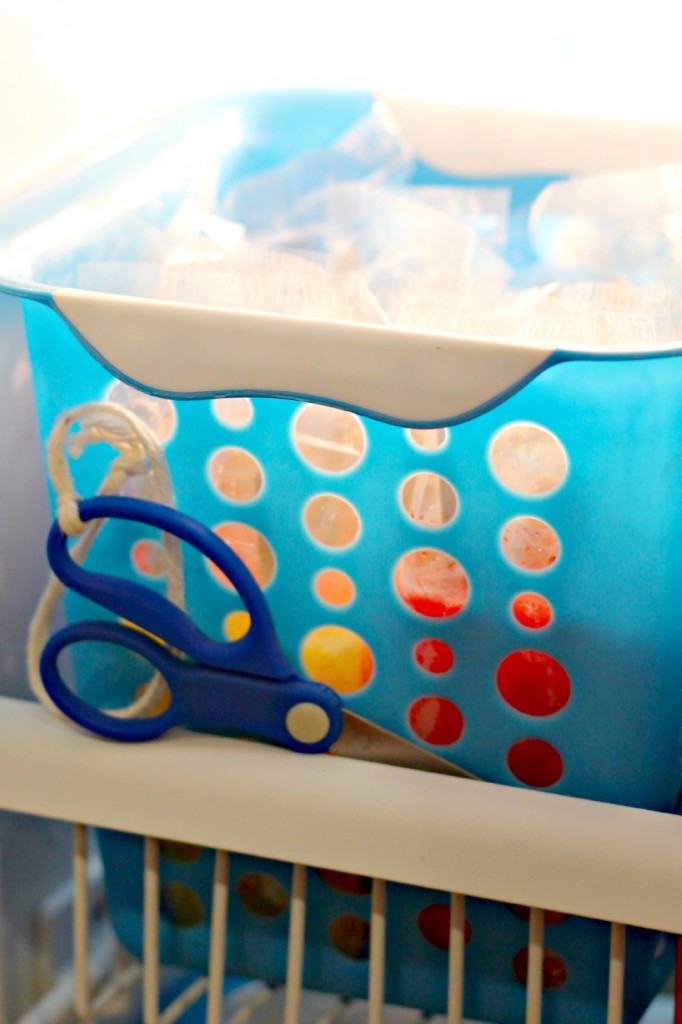 Make Things Easy – The front basket holds popsicles, otter pops, creamies, etc. Sometimes those things, especially the otter pops, can be hard for kids to open. I attached small scissors with yarn to the basket so they could easily open the packaging and the scissors won't get lost.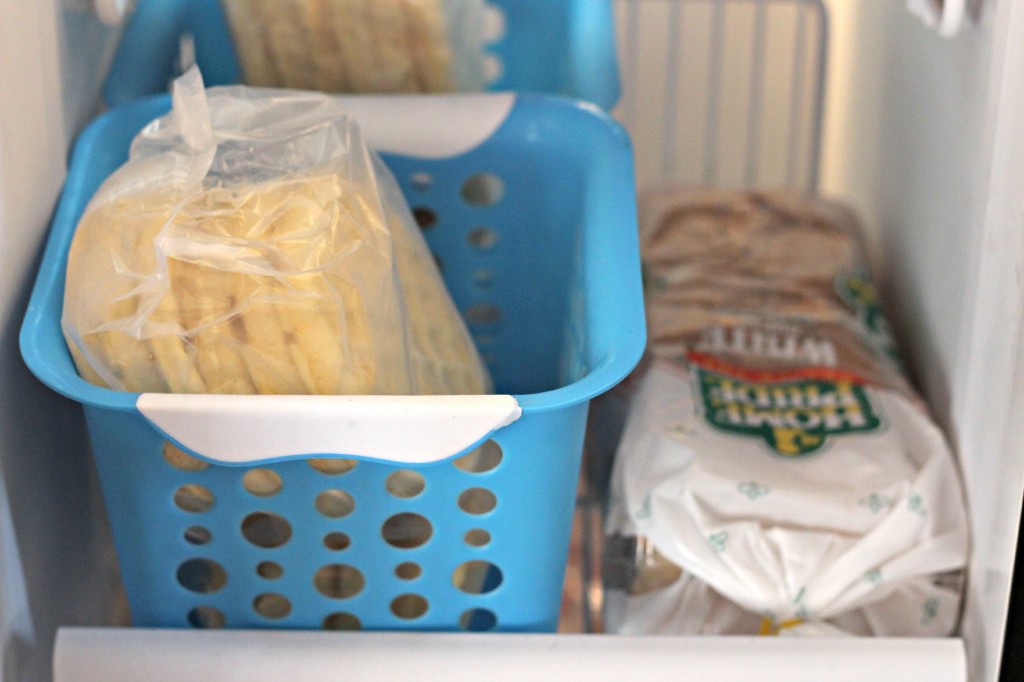 Save on Room – Take food out of packaging that take up valuable space. My kids eat a lot of frozen waffles for breakfast. I take them out of the packaging and place them in a basket to save on space. Hubby makes pancakes and french toast on the weekend. I place the leftovers in sandwich baggies and store them in a basket for quick breakfasts. I purchased my baskets at Dollar Tree so I only spent $4 in total.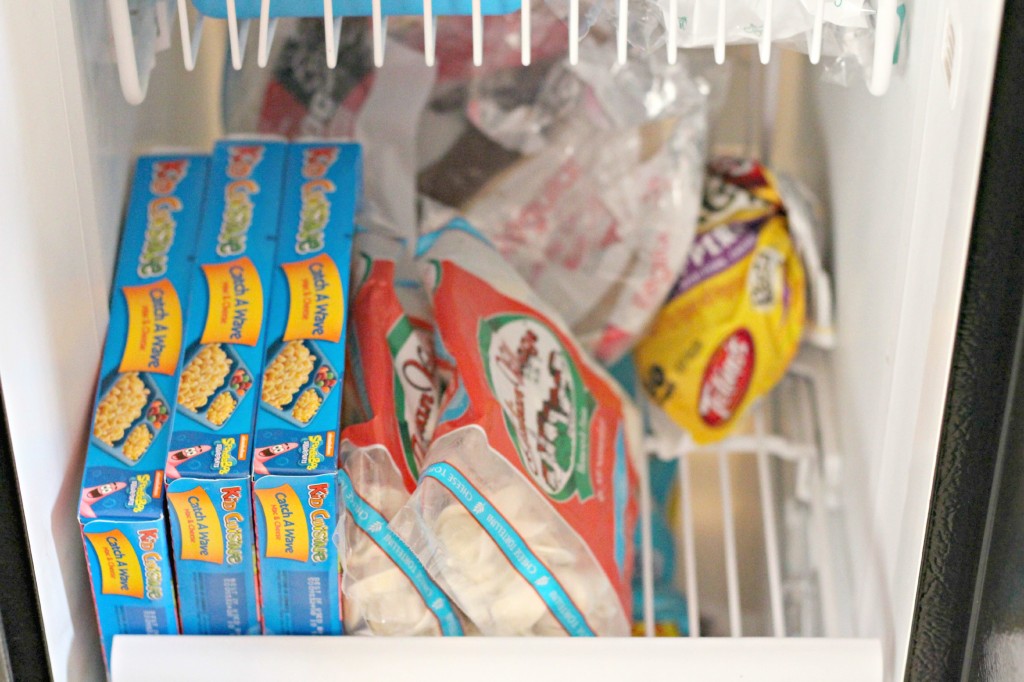 Store Vertically – It's much easier to find what you need and to retrieve it if it's vertical instead of begin stacked on top of one another. The 3rd shelf holds quick and easy meals (meals the kids can even prepare for themselves).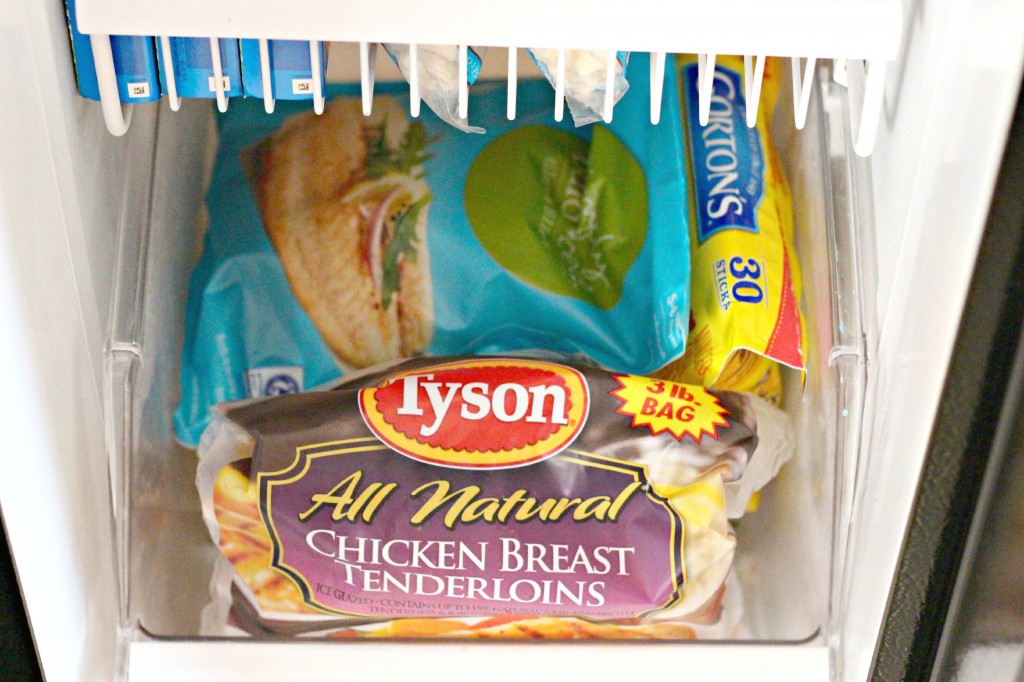 Rotate Food Items – It's easy for food items to get overlooked and then expire if you don't stay on top of it. Make it a habit to rotate food on shopping day. As you unload the groceries rotate the food items so the oldest items are in the front. Also, I store meat and fish on the bottom shelf, I worry about the freezer defrosting and meat juices getting on the other food.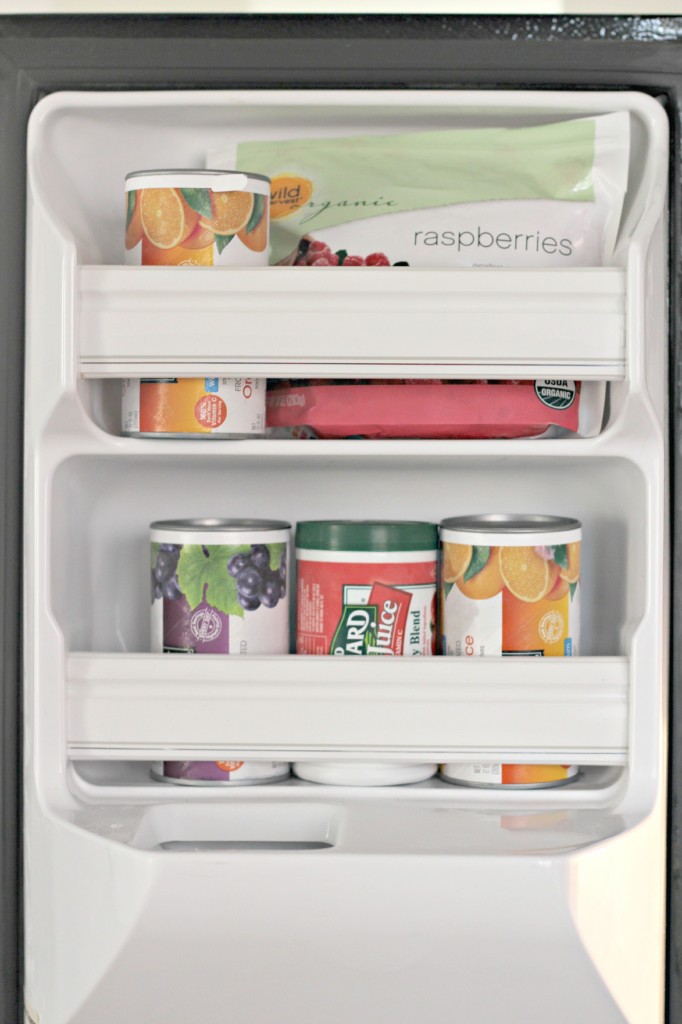 Keep It Contained – Use baskets to contain like items and use the shelves on the door to hold the things of appropriate size. Keep similar things together so they're fast and easy to find.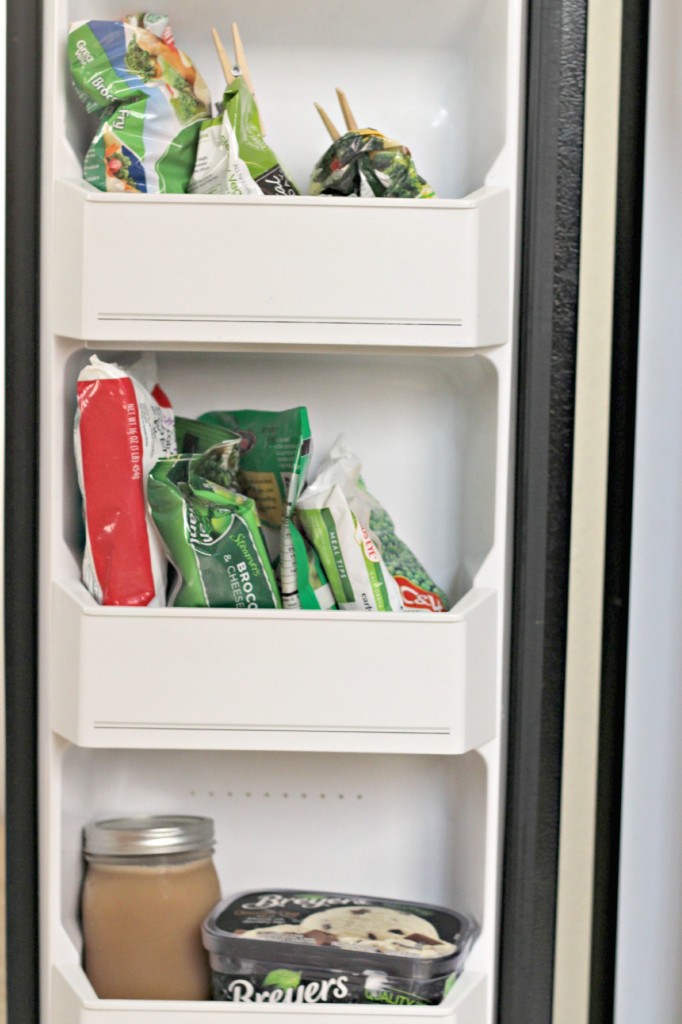 Keep It Clean – Sometimes spills just happened. Wipe up spills as they occur so they don't get on other containers and spread to the whole shelf or the one below.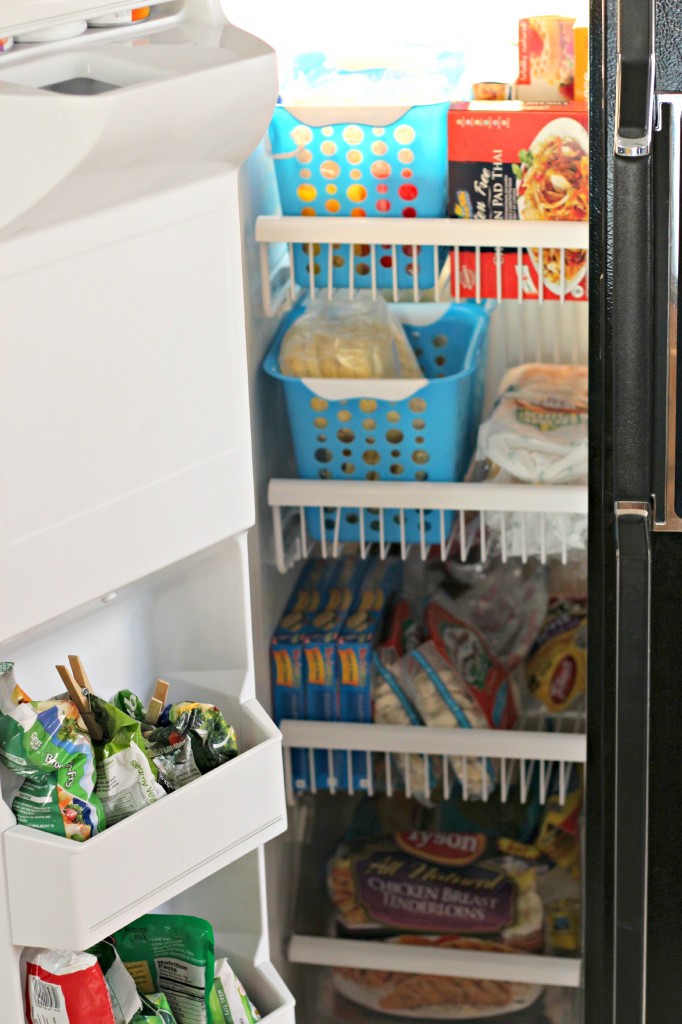 Stay on Top of It – It takes only a few seconds to place something where it really belongs. It will take you at least twice as long to rearrange everything later. By having a place for everything, it is easy to see what you need before you head to the grocery store.
Although I don't use labels in the freezer. They are a great option if they will help you keep things where they belong.
Enjoy your Organized Freezer!