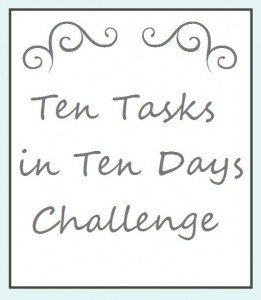 This challenge has kept me motivated to get my projects done, thanks to Gina at The Shabby Chic Cottage. I did change one project up a little though. The original task was to patch the nail holes and paint the trim and door in the almost finished mudroom. Well that's not going to happen because other tasks need to happen first. So I changed the task to getting the bench for the mudroom built. And here it is:
Of course we're going to have to take it out to finish the walls around it, but it's built. Yay! And look, one for him, two for me. Isn't that the way it always is, we get double the space, even in the mudroom. So you can see from this picture that there's still a lot to do in here. Do you think we'll get it done before it snows? That's my goal. Hubby is getting motivated now so I see progress ahead.
I now have 8 tasks completed and 2 to go. Yay!
And can you believe this, I won another giveaway! How lucky is that. I feel I'm going to have to pass this luck onto someone else very soon with another giveway, so keep coming back. I'll come up with something great.
I entered the givaway from Cristin at Simplified Bee. I love her site and she's a fellow organizer so that's makes it even more sweet. She has a great eye for decorating and design. I just love her style. And she lives in a beautiful area of the country, Northern California. Oh, how I love San Francisco. Hubby and I went there again for our anniversary a few years ago and we had such a wonderful time. Check out Cristin's site, I promise you'll love it and be inspired. I wish I lived closer to her, I know we would be great shopping and organizing friends.
Are you wondering what I won? A $50 gift certificate to Duvets Comforters and Bedding.com . How awesome is that! There are so many beautiful products to choose from. I'm going to have a tough decision to make. Just looking at the pictures make you want to sink back into bed and stay there forever. Do you think I can manage my home from bed? Uhmm, I guess not. Thanks Cristin for the awesome giveaway!
Check Out These Related Posts