320 Sycamore does a Favorite Things party every year. I don't think I participated last year but I wanted to make sure I could hop in this year, so I gathered some of my favorite things to share with you. The best part is that every things is reasonably priced. I'm a simple girl that likes pretty and yummy things.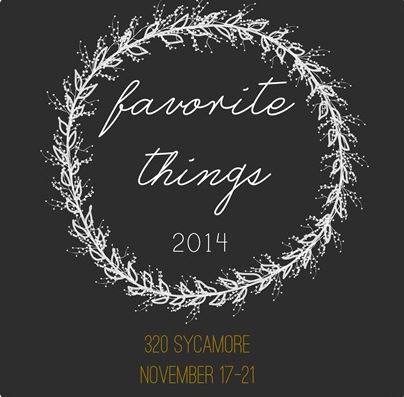 Baskets- Baskets are my favorite for organizing everything. I love all types of baskets but my favorite right now are wire baskets. The best part is you can pick them up at almost any store right now. Be on the lookout for great sales.
Wood Look Candles- I've had mine for years but they're popping up everywhere now. I've seen them at department stores and many craft stores. Like I said I've had mine for years, I'm a trend setter!
Poufs- I love poufs for extra seating and my kids love lounging on them. I love that they don't take up much space but they're easily accessible. Target has a great selection of poufs in a wide range of styles and colors and they go on sale often.
Twig Pencils- I have this thing for natural looking things. I bought some of these awesome twig pencils on our vacation this Summer and I love writing and decorating with them.
Trays- I really can't get enough trays. They are another one of my favorite things to use in organizing. I found these West Elm trays a few years ago and they are my absolute favorite. They discontinue and carry new colors, so there's always a new one I want.
Starbucks Salted Caramel Hot Cocoa- YUM!
Pretty Bowls- I just realized I have all these bowls in this picture. I love pretty bowls but they don't just sit in my cupboard. I also use them. These bowls are from West Elm and my favorite for their size and design.
Boom Chicka Pop Lightly Sweet Popcorn- I can eat the whole bag!
I hope you enjoyed my favorite things 2014 list and some of these become your favorites too.
{ 0 comments }